Danube Roach
The Danube Roach is a species of ray-finned fish in the Cyprinidae family.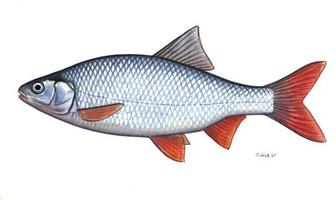 Picture of the Danube Roach has been licensed under a Creative Commons
Attribution-Share Alike
.
Original source
: http://zsoldoseladokepek.freeblog.hu/ Author Zsoldos Márton
Author
: Zsoldos Márton
The Danube Roach lives in the benthopelagic, freshwater, pH range: 7.3 - 8.0, dH range: 15 - 30 environment.
The Danube Roach (Rutilus pigus) is a species of ray-finned fish in the Cyprinidae family. It is found in Austria, Czech Republic, Germany, Hungary, Italy, Romania, Slovenia, and Ukraine. More
A member of the carp family, the Danube roach has a round, blunt snout. They are silvery-grey, with a shiny mother-of-pearl body, dark back and orange-red fins. Their average length is 40cm. It lives in slow-moving rivers and the deeper parts of lakes. More
Common names
Bogardo do Danúbio in Portuguese (Português)
Danube Roach in English
Donau-skalle in Danish (dansk)
Donaunerfling in German (Deutsch)
Donauskalle in Danish (dansk)
Donauvoorn in Dutch (Nederlands)
Dörnling in German (Deutsch)
Erfle in German (Deutsch)
Flickfisk in Swedish (Svenska)
Frauenfisch in German (Deutsch)
Frauennerfling in German (Deutsch)
Fraufisch in German (Deutsch)
Fraunnerfling in German (Deutsch)
Gardon galant in French (français)
Leánykoncér in Hungarian (Magyar)
Pigo in German (Deutsch)
Pigo in Italian (Italiano)
Plotica in Serbian (српски језик)
Plotica lesklá in Slovak (slovenčina)
Plotice dunajská in Czech (česky)
Plotice lesklá in Czech (česky)
Rutilo del Danubio in Spanish (español)
Rutilus pigus in Catalan (Català)
Rutilus pigus in Portuguese (Português)
Tonavansärki in Finnish (suomen kieli)
Tonvansärki in Finnish (suomen kieli)
多瑙拟鲤 in Mandarin Chinese
多瑙擬鯉 in Mandarin Chinese

Custom Search