Red barb
The rosy barb is a subtropical freshwater fish belonging to the minnow family .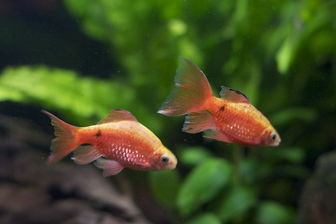 Picture of the Red barb has been licensed under a Creative Commons
Attribution
.
Original source
: Own work Author Kkonstan
Author
: Kkonstan
The Red barb lives in the benthopelagic, freshwater, pH range: 6.0 - 8.0, dH range: 5 - 19 environment.
Red barb; Red-barbed ant; East african red-finned barb; Neumayer's barb; Yellow barb; Jae barb; Redspot barb; Algerian barb; Trout barb; Coppernose barb; Mad barb; Beardless barb; Tinfoil barb; Java barb; Chinese barb; Ticto barb; Swamp barb; Pangani barb; Nyanza barb; Bowstripe barb; Slender barb; More
Also known in certain circles as the Red Barb, the Rosy Barb is a popular freshwater tropical fish that will bring a lot of activity to your tank. They are generally peaceful but like many barbs, can become fin nippers if they are not placed in a small school of 5 or more. More
Silver and Red Barb - South American Bumblebee Catfish Silver and Red Barb See Hampala macrolepidota Silver Apollo Shark See Luciosoma sp Silver Barb See Barbus choloensis Silver Barramundi See Lates calcarifer Silver Batfish See Monodactylus argenteus More
I got the red Barb Wire ball and bag, the wife got the pink Barb Wire and the son got the blue one. I guess you could say we are wired. Very cool looking bowling balls. Makes bowling a little more fun. More
Common names
Brzanka rósowa in Polish (polski)
Brzanka różowa in Polish (polski)
Chidu in Punjabi
Chikka karsae in Kannada (ಕನ್ನಡ)
Kanchan punti in Bengali (বাংলা)
Karse in Kannada (ಕನ್ನಡ)
Kharauli-pothi in Hindi (हिन्दी)
Khavli in Marathi (मराठी)
Kunchon-pungti in Bengali (বাংলা)
Loistobarbi in Finnish (suomen kieli)
Mino rosado in Spanish (español)
Mrenka nádherná in Slovak (slovenčina)
Ognennyi puntius in Russian (русский язык)
Parma nádherná in Czech (česky)
Parmička červená in Czech (česky)
Parmička nádherná in Czech (česky)
Parmička ozdobná in Czech (česky)
Pitia kerundi in Oriya (ଓଡ଼ିଆ)
Pothi in Hindi (हिन्दी)
Pothia sidre in Nepali (नेपाली)
Prachtbarbe in German (Deutsch)
Pragtbarbe in Danish (dansk)
Praktbarb in Swedish (Svenska)
Puntius conchonius in Catalan (Català)
Puntius conchonius in French (français)
Puthi in Assamese (অসমীয়া)
Putthi in Assamese (অসমীয়া)
Red barb in English
rosy barb in English
Rózsás díszmárna in Hungarian (Magyar)
Ticker in Punjabi
пунтиус огненный in Russian (русский язык)
पोथीआ िसदरी in Nepali (नेपाली)
কানচনপুনটি in Bengali (বাংলা)
玟瑰无须魮 in Mandarin Chinese
玟瑰無鬚魮 in Mandarin Chinese
玫瑰魮 in Chinese (中文)
玫瑰魮 in Mandarin Chinese

Custom Search