Tamaulipas shiner
Tamaulipas Shiner is a species of ray-finned fish in the genus Notropis.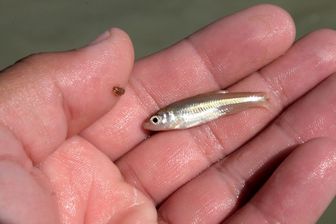 Picture of the Tamaulipas shiner has been licensed under a Creative Commons
Attribution
.
Original source
: originally posted to Flickr as Tamaulipas shiner (N
Author
: Clinton & Charles Robertson Permission (
The Tamaulipas shiner lives in the benthopelagic, freshwater environment.
Tamaulipas shiner (Notropis braytoni), Chihuahua shiner (N. chihuahua), Río Grande shiner (N. jemezanus), and Conchos pupfish (Cyprinodon eximius). More
1 Tamaulipas shiner Notropis braytoni Tamaulipas shiner Notropis braytoni Identification and Information for Texas Fishes ... Notropis braytoni (substitute for Moniana nitida Girard, preoccupied) ... www.bio.txstate. More
Tamaulipas Shiner - Notropis braytoni Ghost Shiner - Notropis buchanani Mimic Shiner - Notropis volucellus Cahaba Shiner - Notropis cahabae Mirror Shiner - Notropis spectrunculus Sawfin Shiner - Notropis species More
Common names
carpita tamaulipeca in Spanish (español)
Jeleček Brytonův in Czech (česky)
tamaulipas shiner in English
勃氏美洲鱥 in Chinese (中文)
勃氏美洲鱥 in Mandarin Chinese

Custom Search