Red fin shark
The rainbow shark is a popular freshwater community-tank aquarium fish of the Cyprinidae family.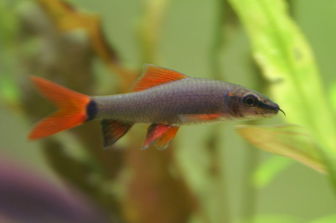 Picture of the Red fin shark has been licensed under a
GFDL
Original source
: Transferred from de.wikipedia; transfer was made by User:Gikü. (Original text : Selbst
Author
: Original uploader was MerlinSenger at de.wikipedia
Permission
: GNU Free Documentation License
The Red fin shark lives in the benthopelagic, freshwater environment.
MY RED FIN SHARK IS BEHAVING PECULIARLY, HE IS SWMMING UP SIDE DOWN ON THE TOP SERFACE OF THE WATER, HE IS ALWAYS STICKING TO THE AQUARIUM WALL, HE IS LITTLE OFF COLOUR HE IS NOT CHASING OTHER FISH ALSO. More
This question about "Can a red fin shark … " was originally asked on Yahoo! Answers United Kingdom Ready to Participate? Get Started! ADVERTISEMENT Categories - * All Categories More
Common names
Brun Labeo in Danish (dansk)
Brun læbebarbe in Danish (dansk)
Labeo mekongské in Czech (česky)
Red fin shark in English
Trey andat pee in Khmer (ភាសាខ្មែរ)
虹彩野鯪 in Mandarin Chinese
虹彩野鲮 in Mandarin Chinese

Custom Search