Rainbow sharkminnow
The rainbow shark is a popular freshwater community-tank aquarium fish of the Cyprinidae family.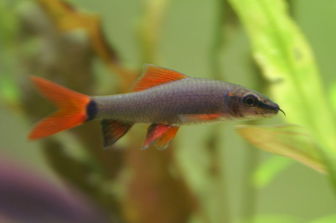 Picture of the Rainbow sharkminnow has been licensed under a
GFDL
Original source
: Transferred from de.wikipedia; transfer was made by User:Gikü. (Original text : Selbst
Author
: Original uploader was MerlinSenger at de.wikipedia
Permission
: GNU Free Documentation License
The Rainbow sharkminnow lives in the benthopelagic, freshwater, pH range: 6.0 - 8.0, dH range: 5 - 12 environment.
rainbow sharkminnow, green fringelip labeo, whitefin shark and whitetail sharkminnow. Unlike true sharks, which belong to the cartilaginous fishes, the rainbow shark is a bony fish. More
Rainbow Sharkminnow, Redfin Shark, Ruby Shark, Albino Rainbow Shark, Green fringelip labeo Scientific Name - Epalzeorhynchos frenatum Origin - Asia: Cambodia, Laos, Thailand Length - More
Common names
Epalzeorhynchos frenatum in Catalan (Català)
Epalzeorhynchos frenatum in Italian (Italiano)
Green fringelip labeo in English
Grøn Labeo in Danish (dansk)
Grüner Fransenlipper in German (Deutsch)
Labeo červenoploutvé in Czech (česky)
Pa tout hin in Lao (ພາສາລາວ)
Pa tout hin in Laotian
Parmička červenoploutvá in Czech (česky)
Parmička rubínová in Czech (česky)
Rainbow shark in English
Rainbow sharkminnow in English
Red finned shark in English
Redfin shark in English
Rubin-labeo in Danish (dansk)
ruby shark in English
Trey kuol chek in Khmer (ភាសាខ្មែរ)
Tulievä in Finnish (suomen kieli)
Whitefin shark in English
Whitetail sharkminnow in English
须唇角鱼 in Mandarin Chinese
须唇野鲮 in Mandarin Chinese
鬚唇角魚 in Mandarin Chinese
鬚唇野鯪 in Mandarin Chinese

Custom Search