Hardback herring
It has a solid back with dark streaks and usually a small dark spot at the upper edge of the operculum and sometimes one located at the shoulder.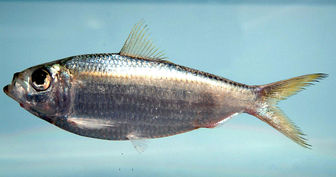 Picture of the Hardback herring has been licensed under a Creative Commons
Attribution
.
Original source
: Flickr: fish4270 Author
Author
: NOAA Photo Library Permission (
The Hardback herring lives in the reef-associated, brackish, marine, depth range - 22 m , usually 1 - 5 m environment.
Nothing known about the Hardback herring
Common names
Cascarua in Spanish (español)
Conchúa in Spanish (español)
Guiana harring in English
Hardback herring in English
Harengule jagane in French (français)
Herring in English
Pilchard in English
Sardina in Spanish (español)
Sardina escamudina in Spanish (español)
Sardina jaguana in Spanish (español)
Sardine in English
Sardineta in Spanish (español)
Sardineta jaguana in Spanish (español)
Sardinha in Portuguese (Português)
Sardinha-cascuda in Portuguese (Português)
sardinita vivita escamuda in Spanish (español)
Savelha-cascuda in Portuguese (Português)
scaled herring in English
scaled sardine in English
Skælsild in Danish (dansk)
Sleď kubánský in Czech (česky)
Sledzianka wielka in Polish (polski)
Uroko-sappa in Japanese (日本語)
大西洋青鱗魚 in Mandarin Chinese
大西洋青鳞鱼 in Mandarin Chinese
平萨青鳞鱼 in Mandarin Chinese
平薩青鱗魚 in Mandarin Chinese

Custom Search