Cloudy cat shark
The cloudy catshark, Scyliorhinus torazame, is a species of catshark, family Scyliorhinidae, found on the outer continental shelves and upper continental slopes of the northwestern Pacific Ocean to a depth of 320 m .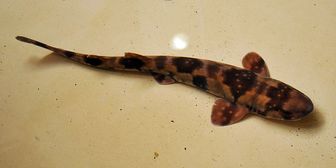 Picture of the Cloudy cat shark has been licensed under a Creative Commons
Attribution
.
Original source
: Shin-Enoshima Aquarium(2008.8.23) - 183
Author
: saname777 from Tokyo, Japan
The Cloudy cat shark lives in the demersal, marine, depth range - 100 m environment.
Cloudy Cat Shark Baby Brings Up The 100 For Helsinki Sea Life 14-08-2009 CLOUDY CAT SHARK BABY BRINGS UP THE 100 FOR HELSINKI SEA LIFE The honour has gone to an infant cloudy cat shark, a notoriously difficult species to breed More
Common names
Alitán nubarrado in Spanish (español)
Bedekte kathaai in Dutch (Nederlands)
Broget rødhaj in Danish (dansk)
Cloudy cat shark in English
cloudy catshark in English
Hu wén mao sha in Mandarin Chinese
Pating in Tagalog
Roussette nuageuse in French (français)
Scyliorhinus torazame in French (français)
Torazame in Japanese (日本語)
Tu-t'up-sang-ǒ in Korean (한국어)
虎紋貓鯊 in Mandarin Chinese
虎纹猫鲨 in Mandarin Chinese
두툽상어 in Korean (한국어)

Custom Search