Indian swellshark
The Indian swellshark, Cephaloscyllium silasi, is a catshark of the family Scyliorhinidae found in the western Indian Ocean from Quilon, India and Sauqira Bay, Oman between latitudes 16° N and 10° N, from the surface to 300 m.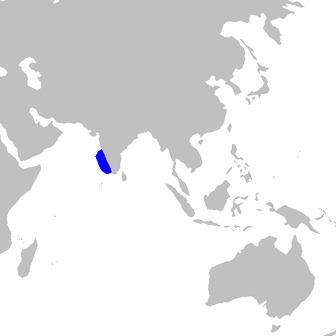 Picture of the Indian swellshark has been licensed under a
GFDL
Original source
: Compagno, Leonard; Dando, Marc & Fowler, Sarah (2005). Sharks of the World. Collins Field Guides. ISBN 0-00-713610-2.
Author
: Chris_huh Permission (
Permission
: GNU Free Documentation License
The Indian swellshark, Cephaloscyllium silasi, is a catshark of the family Scyliorhinidae found in the western Indian Ocean from Quilon, India and Sauqira Bay, Oman between latitudes 16° N and 10° N, from the surface to 300 m. More
swellshark silasi Indian swellshark sufflans Balloon shark ventriosum Swellshark http://www.uprh.edu/~cgarcia/tiburon/sinopsis.html SINOPSIS DE LAS ESPECIES ...- http://raven.utc.edu/cgi-bin/WA.EXE?A2=ind0004&L=shark-l&F=&S=&P=19032 SHARK-L archives - April 2000 (#181) ...& Nisa-Castro-Neto (in press): S. More
Common names
Holbiche indienne in French (français)
Indian swell shark in English
Indian swellshark in English
Indiase zwelhaai in Dutch (Nederlands)
Indisk ballonhaj in Danish (dansk)
Pejegato de Silas in Spanish (español)
印度絨毛鯊 in Mandarin Chinese
印度绒毛鲨 in Mandarin Chinese

Custom Search