Australian swellshark
The Australian swellshark or draughtboard shark is a species of catshark, family Scyliorhinidae, endemic to southern Australia.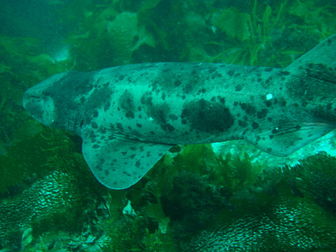 Picture of the Australian swellshark has been licensed under a Creative Commons
Attribution-Share Alike
.
Original source
: Draughtboard Shark 2
Author
: Nick Long
The Australian swellshark lives in the demersal, marine, depth range - 220 m environment.
The Australian swellshark inhabits the continental shelf of southern Australia, from the Recherche Archipelago off Western Australia to Jervis Bay in New South Wales, including Tasmania. More
Australian swellshark has been listed as one of the Natural sciences good articles under the good article criteria. If you can improve it further, please do so. If it no longer meets these criteria, you can delist it, or ask for a reassessment. More
The Australian swellshark was originally named Scyllium laticeps by the French zoologist Auguste Henri Andr More
No image of Australian swellshark found in the Shark Database Range Map Earth Map Names Scientific: Cephaloscyllium laticeps German: Australischer Schwellhai More
Australian Swellshark, Sleepy Joe Cat Shark and Nutcracker Shark. Victoria, Australia. More
Common names
Australian swell shark in English
Australian swellshark in English
Australische zwelhaai in Dutch (Nederlands)
Australsk ballonhaj in Danish (dansk)
Draughtboard shark in English
Flopguts in English
Holbiche gressouillette in French (français)
Holbiche isabelle in French (français)
Isabell's swell shark in English
Nutcracker shark in English
Pejegato australiano in Spanish (español)
Pejegato bordeado in Spanish (español)
Žralok nafukovací beloploutvý in Czech (česky)
Rock shark in English
Sleepy joe in English
Spotted swellshark in English
Swell shark in English
whitefinned swellshark in English
Žralok nafukovací běloploutvý in Czech (česky)
澳洲絨毛鯊 in Mandarin Chinese
澳洲绒毛鲨 in Mandarin Chinese
白鰭絨毛鯊 in Mandarin Chinese
白鳍绒毛鲨 in Mandarin Chinese

Custom Search