Brown catshark
Brown catsharks have long, slender bodies with broad, bell-shaped snouts.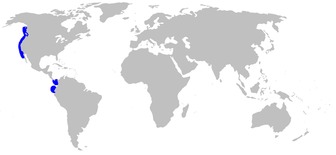 Picture of the Brown catshark has been licensed under a
GFDL
Original source
: Compagno, Leonard; Dando, Marc & Fowler, Sarah (2005). Sharks of the World. Collins Field Guides. ISBN 0-00-713610-2.
Author
: Chris_huh Permission (
Permission
: GNU Free Documentation License
The Brown catshark lives in the demersal, marine, depth range 33 - 950 m environment.
Communication specific to brown catsharks is unknown. More
No image of Brown catshark found in the Shark Database Range Map Earth Map Names Scientific: Bythaelurus lutarius German: Brauner Katzenhai More
The Brown Catshark is a deepwater species, endemic to the eastern Pacific Ocean, from British Columbia, Canada, to northern Baja California, and from Mexico to Panama, Ecuador, and Peru. More
Common names
Apristurus brunneus in Catalan (Català)
Brauner Katzenhai in German (Deutsch)
brown cat shark in English
Brown catshark in English
Brown shark in English
Bruine handshaai in Dutch (Nederlands)
Bruine kathaai in Dutch (Nederlands)
Brun kattehaj in Danish (dansk)
Brun Katthaj in Swedish (Svenska)
Gato marrón in Spanish (español)
Gattuccio bruno in Italian (Italiano)
Holbiche brune in French (français)
K'wet'thenéchte in Salish
Pata-roxa castanha in Portuguese (Português)
Pejegato marrón in Spanish (español)
Rekinek brunatny in Polish (polski)
Requin chat brun in French (français)
Tiburón in Spanish (español)
Tiburón gato marrón in Spanish (español)
Tubarao-castanho in Portuguese (Português)
褐光尾鯊 in Mandarin Chinese
褐光尾鲨 in Mandarin Chinese

Custom Search