Harlequin cat shark
The harlequin catshark, Ctenacis fehlmanni, is a finback catshark of the family Proscylliidae, the only member of the genus Ctenacis, found in the western Indian Ocean off Somalia at depths of between 70 and 170 m.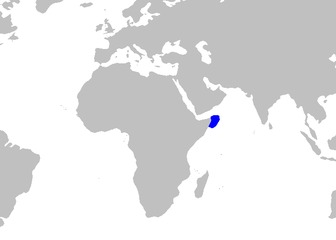 Picture of the Harlequin cat shark has been licensed under a
GFDL
Original source
: Compagno, Leonard; Dando, Marc & Fowler, Sarah (2005). Sharks of the World. Collins Field Guides. ISBN 0-00-713610-2.
Author
: Chris_huh Permission (
Permission
: GNU Free Documentation License
The Harlequin cat shark lives in the demersal, marine, depth range 70 - 170 m environment.
harlequin cat shark (Ctenacis fehlmanni) Harlekinkatzenhai {m} harlequin cat shark (Ctenacis fehlmanni) Harlequin-Katzenhai {m} harlequin cat shark (Ctenacis fehlmanni) Harlequinkatzenhai {m} harlequin cat shark (Ctenacis fehlmanni) More
Harlequin cat shark - Ctenacis fehlmanni Hasselt's bamboo shark - Chiloscyllium hasseltii Hawaiian lantern shark - Etmopterus villosus Hoary cat shark - Apristurus canutus Hooded carpet shark - Hemiscyllium strahani Hooktooth shark - Chaenogaleus macrostoma Horn shark More
Higapok Shark Harlequin Cat Shark Federovis Cat Shark Pondicherry Shark 6. You are 16.5 times more likely to be hit by lightning than to be attacked by a shark. True False 7. More
Harlequin cat shark, Harlequin catshark Requin-chat arlequin Tollo coludo arlequín Zones tropicales bathydémersal Colone d'eau : entre -70 et -170 mètres Eau douce Eau saumâtre Eau More
Harlequin Bass, Harlequin Cat Shark, Harlequin Catshark Common Names in French: Requin Chat Arlequin, Requin-Chat Arlequin Common Names in Mandarin Chinese: 鞍斑前鯊, 鞍斑前鯊, 鞍斑前鲨 Common Names in Spanish: Tollo Coludo Arlequ�n More
Common names
Harlekijnrugvinkathaai in Dutch (Nederlands)
Harlekin-finnerødhaj in Danish (dansk)
Harlequin cat shark in English
harlequin catshark in English
Requin chat arlequin in French (français)
Requin-chat arlequin in French (français)
Tollo coludo arlequín in Spanish (español)
鞍斑前鯊 in Mandarin Chinese
鞍斑前鲨 in Mandarin Chinese

Custom Search