Creek whaler
It is viviparous.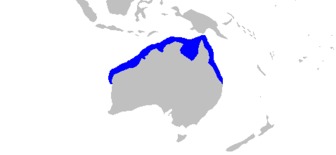 Picture of the Creek whaler has been licensed under a
GFDL
Original source
: Last, P.R.; Stevens, J.D. (2009). Sharks and Rays of Australia (second ed.). Harvard University Press. p. 260–261. Author Chris_huh Permission
Author
: Chris_huh Permission (
Permission
: GNU Free Documentation License
The Creek whaler lives in the demersal, brackish, marine, depth range - 40 m environment.
Creek Whaler in English. More
The creek whaler, Carcharhinus fitzroyensis, is a requiem shark of the family Carcharhinidae, found in the southwestern Pacific Ocean between latitudes 10° S and 26° S, from the surface to at least 40 m. Its length is up to about 1.35 m. More
Fitzroy creek whaler, and in Lake Nicaragua it is called Nicaragua Shark. In all of these cases, it was thought to be an endemic river species. Now, we know them all to be bull sharks. More
Creek whaler - Carcharhinus fitzroyensis online fact sheet reproduced by the Shark Foundation / Hai-Stiftung Result Pages: More
The creek whaler has large, broadly triangular pectoral fins A map showing the distribution of the creek whaler, which is found mostly inshore, north of central Queensland on the east coast and north of Exmouth on the west coast Distribution of More
No image of Creek whaler found in the Shark Database Range Map Earth Map Systematics Phylum: Vertebates (Chordata) Class: Carlilagenous Fishes (Chondrichthyes) Order: Ground sharks (Carcharhiniformes) More
The Tanner's Creek Whalers have been a folk music and sea chanty tradition in Hampton Roads since the early 1970's. They take their name from the historical name of the Lafayette River in Norfolk, Virginia. More
* Creek whaler, Carcharhinus fitzroyensis (Whitley, 1943) * Galapagos shark, Carcharhinus galapagenisis (Snodgrass & Heller, 1905) * Pondicherry shark, Carcharhinus hemiodon (M�ller & Henle, 1839) More
Common names
Carcharhinus fitzroyensis in Catalan (Català)
Carcharhinus fitzroyensis in French (français)
creek whaler in English
Creek whaler shark in English
Kreekhaai in Dutch (Nederlands)
Requin baleinier in French (français)
Tiburón ballenero in Spanish (español)
昆士兰真鲨 in Mandarin Chinese
昆士蘭真鯊 in Mandarin Chinese

Custom Search