Borneo shark
The Borneo shark is evaluated as Endangered on the IUCN Red List of Threatened Species.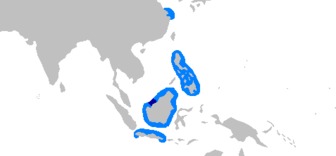 Picture of the Borneo shark has been licensed under a
GFDL
Original source
: Based on IUCN, modified with data from White, W.T.; Last, P.R.; Lim, A.P.K. (2010). "Rediscovery of the rare and endangered Borneo Shark Carcharhin
Author
: Chris_huh Permission (
Permission
: GNU Free Documentation License
The Borneo shark lives in the demersal, marine environment.
The Borneo shark is classified as Endangered (EN), considered to be facing a very high risk of extinction in the wild.

Description: The Borneo shark is extremely rare and known by only a few specimens. It lives in the shallow coastal waters of the South Pacific Ocean. It is viviparous, meaning it gives birth to live young. More
The Borneo shark, Carcharhinus borneensis, is a requiem shark of the family Carcharhinidae, found in the Indo-West Pacific oceans between latitudes 21° N and 4° S. Its length is up to about 70 cm. More
Exciting find: A picture of a Borneo shark which has not been seen for over a century. The Borneo shark, brown on the top half of the body and white on the belly half, is said to reach lengths of up to 2m. More
The Borneo shark, brown on the top half of the body and white on the belly half, is said to reach lengths of up to 20m. It is also said to be a rare viviparous species, which gives birth to living offspring. More
Dutch scientist Dr Pieter Bleeker first recorded the Borneo shark in the Sabah east coast district of Sandakan in 1859, Dr Saleem said in a press statement. More
No image of Borneo shark found in the Shark Database Range Map Earth Map Systematics Phylum: Vertebates (Chordata) Class: Carlilagenous Fishes (Chondrichthyes) Order: Ground sharks (Carcharhiniformes) More
Borneo Shark Found One of the rarest sharks on Earth has been found again. The Borneo shark, Carcharhinus borneensis, is listed on the IUCN Red List of threatened species, and is known from only 5 specimens since 1858. More
Last Seen in 1859, Rare Borneo Shark Spotted Again in Malaysia; New Species of Ray, Crab ID'd Underwatertimes.com News Service March 24, 2007 17:00 EST email to a friend email print this print Bookmark and Share RSS 2. More
* The Borneo shark is classified as endangered. Once again, it is found inshore and in coastal areas and has not been widely studied. More
Common names
borneo shark in English
Borneo-haj in Danish (dansk)
Borneohaai in Dutch (Nederlands)
Carcharhinus borneensis in Catalan (Català)
Carcharhinus borneensis in French (français)
Chai-gruey in Thai (ไทย)
Requin tigre houareau in French (français)
Requin-tigre houareau in French (français)
Tiburón de Borneo in Spanish (español)
Yu in Malay (bahasa Melayu)
印尼真鯊 in Mandarin Chinese
印度尼西亚真鲨 in Mandarin Chinese

Custom Search