Whitetip soldierfish
Myripristis vittata is a Soldierfish from the Indo-Pacific.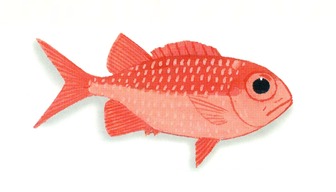 Picture of the Whitetip soldierfish has been licensed under a Creative Commons
Attribution-Share Alike
.
Original source
: Own work Author Xavier Romero-Frias
Author
: Xavier Romero-Frias
The Whitetip soldierfish lives in the demersal, marine, depth range 2 - 21 m environment.
* Myripristis vittata, Whitetip soldierfish, Valenciennes in Cuvier and Valenciennes, 1831. More
Whitetip soldierfish ( Myripristis vittata ) Yellowfin soldierfish ( Myripristis chryseres ) Pearly soldierfish ( Myripristis kuntee ) Double tooth squirrel fish ( Myripristis hexagona ) Tailspot squirrelfish ( Sargocentron caudimaculatum ) Blackspot squirrelfish More
Whitetip Soldierfish, Myripristis vittata Whitetip Soldierfish Myripristis vittata Spotfin Squirrelfish, Neoniphon sammara Spotfin Squirrelfish Neoniphon sammara Prickly Squirrelfish, Plectrypops lima Prickly Squirrelfish Plectrypops lima More
Thumbnail Middle East Egypt Red Sea, Whitetip Soldierfish, Myripristis vittata, Digital Compositgtsweetlipp 85.00 EUR (126.91 USD) download Middle East Egypt Red Sea, Whitetip Soldierfish, Myripristis Vittata, Digital Compositgtsweetlipp (0. More
Image: Whitetip Soldierfish, Myripristis vittata - Add comment Add tags Whitetip Soldierfish, Myripristis vittata Description Whitetip Soldierfish at a depth of 30 m, North Horn, Osprey Reef, Coral Sea, November 2006. More
Common names
'I'ihi in Tahitian (Reo Mā`ohi)
'U'u in Hawaiian
Baga-baga in Davawenyo
Baga-baga in Tagalog
Bagsang in Ilokano
Beni-matsukasa in Japanese (日本語)
Cardinal petit écailles in French (français)
Corocoro in Fijian (vosa Vakaviti)
Dhan bodu in Maldivian
Ganting in Davawenyo
Immaculate soldier in English
Immaculate soldierfish in English
Immaculate squirrelfish in English
Lion in Creole, French
Lion in Creoles and Pidgins, French
Malau in Samoan (gagana fa'a Samoa)
Onbevlekte soldaat in Afrikaans
Poissons soldat rouge in French (français)
red soldierfish in English
Red-orange squirrelfish in English
Seychelles soldier in English
Seychelles-soldaat in Afrikaans
Soldat à bord blanc in French (français)
Sugac in Ilokano
White-tipped soldierfish in English
Whitetip soldierfish in English
印度洋鋸鱗魚 in Mandarin Chinese
印度洋锯鳞鱼 in Mandarin Chinese
无斑锯鳞鱼 in Mandarin Chinese
無斑鋸鱗魚 in Mandarin Chinese
赤鰓松毬 in Mandarin Chinese
赤鳃松球 in Mandarin Chinese

Custom Search