Sarasins minnow
Xenopoecilus sarasinorum is a species of fish in the Adrianichthyidae family.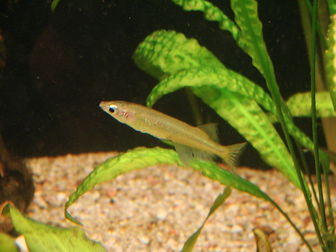 Picture of the Sarasins minnow has been licensed under a
GFDL
Original source
: Own work Author Guérin Nicolas (
Author
: Guérin Nicolas (
Permission
: GNU Free Documentation License
The Sarasins minnow lives in the pelagic, freshwater, pH range: 7.5 - 8.5 environment.
The Sarasins minnow is classified as Endangered (EN), considered to be facing a very high risk of extinction in the wild.

Nothing known about the Sarasins minnow
Common names
Sarasin's minnow in Unknown
Sarasins minnow in English
Sarasins Schaufelkärpfling in German (Deutsch)
Soukkamedaka in Finnish (suomen kieli)
Xenopoecilus sarasinorum in French (français)
异色鮰 in Mandarin Chinese
異色鮰 in Mandarin Chinese

Custom Search