Capricorn lizardfish
The Capricorn lizardfish which is also known as Synodus capricornis, is a type of lizardfish or Synodontidae that lives mainly in the Pacific Ocean.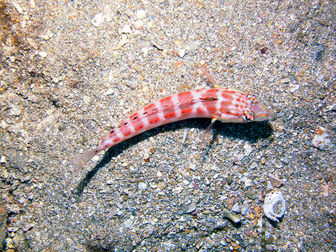 Picture of the Capricorn lizardfish has been licensed under a Creative Commons
Attribution
.
Original source
: originally posted to Flickr as Capricorn Lizardfish
Author
: Tabitha Borchardt Permission (
The Capricorn lizardfish lives in the demersal, marine, depth range 20 - 88 m environment.
The Capricorn lizardfish which is also known as Synodus capricornis is a type of lizardfish or Synodontidae that lives mainly in the Pacific Ocean. References - 1. ^ http://www.fishbase.org/search. More
* Capricorn lizardfish, Synodus capricornis Cressey & Randall, 1978 * Sand lizardfish, Synodus dermatogenys Fowler, 1912 More
Common names
'Ulae in Hawaiian
'Ulae in Unknown
anoli à Capricorn in French (français)
Capricorn lizardfish in English
lagarto dos Capricorn in Spanish (español)
羊角狗母魚 in Mandarin Chinese
羊角狗母魚 in Unknown
羊角狗母鱼 in Mandarin Chinese
羊角狗母鱼 in Unknown

Custom Search