Genus Athene

Spotted Owlet
Spotted Owlet - The Spotted Owlet is a small owl which breeds in tropical Asia from India to Southeast Asia. A common resident of open habitats including farmland and human habitation, it has adapted to living in cities. They roost in small groups in the hollows of trees or in cavities in rocks or buildings. It nests in a hole in a tree or building, laying 3-5 eggs. The species is absent from Sri Lanka, although the birds are found across the Palk Straits, just 30 kilometres away at Rameshwaram. Nests near human habitations may show higher breeding success due to increased availability of rodents for feeding young. The species shows a lot of variation including clinal variation in size and forms a superspecies with the very similar Little Owl.

Burrowing Owl
Burrowing Owl - Strix cunicularia Molina, 1782 Speotyto cunicularia Spheotyto cunicularia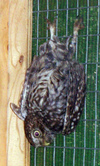 Little Owl
Little Owl - The Little Owl is a bird which is resident in much of the temperate and warmer parts of Europe, Asia east to Korea, and north Africa. It is not native to Great Britain, but was first introduced in 1842, and is now naturalised there. It was also successfully introduced to the South Island of New Zealand in the early 20th century.