Spotted Owlet
The Spotted Owlet is a small owl which breeds in tropical Asia from India to Southeast Asia. A common resident of open habitats including farmland and human habitation, it has adapted to living in cities. They roost in small groups in the hollows of trees or in cavities in rocks or buildings. It nests in a hole in a tree or building, laying 3-5 eggs. The species is absent from Sri Lanka, although the birds are found across the Palk Straits, just 30 kilometres away at Rameshwaram. Nests near human habitations may show higher breeding success due to increased availability of rodents for feeding young. The species shows a lot of variation including clinal variation in size and forms a superspecies with the very similar Little Owl.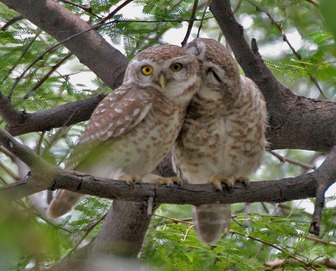 Picture of the Spotted Owlet has been licensed under a
GFDL
Original source
: Own work
Author
: J.M.Garg
Permission
: GNU Free Documentation License
The Spotted Owlet is classified as Least Concern. Does not qualify for a more at risk category. Widespread and abundant taxa are included in this category.

Hindu Business LineThe spotted owlet is one of the 30-odd small and big owls found in our country and ... The spotted owlet merges with its surroundings, thanks to the brown ... Jungle Owlet spotted at Indroda park - Apr 13, 2009 Times of IndiaForest officials say the Spotted Owlet breeds in tropical Asia, from India to southeast Asia. It prefers open areas, including farmland, ... Experiencing nature in its pristine form - Nov 19, 2007 The Hindu... More
The Spotted Owlet (Athene brama) is a small owl which breeds in tropical Asia from India to Southeast Asia. A common resident of open habitats including farmland and human habitation, it has adapted to living in cities. They roost in small groups in the hollows of trees or in cavities in rocks or buildings. It nests in a hole in a tree or building, laying 3-5 eggs. More
* Video preview image A Spotted Owlet alarmed by presence of Shikra near its nest-hole Jaipur, Rajasthan, India RAM GOPAL SONI 20 December 2009 20 weeks ago 26 sec 4 * Video preview image Two birds in a tree at daytime Kharad, Uttar Pradesh, India (ssp indica) Umar Saif 3 March 2007 2 years ago 15 sec 4 * Video preview image A bird which is roosting above its tree hole, More
A pair of Spotted Owlets are having a continuous feud with a pair of Indian Rollers in our Garden over a nesting hole. After a brief retreat, the Owlets are back in possession of the hole. One of the pair always occupies the hole while the other is safely hidden somewhere in the canopy. The Rollers, on their part, dive bomb the hole with loud calls trying to dislodge the occupying Owlet. More
Spotted Owlet Athene brama copyright Clement M Francis Female owls are usually larger than the males. Owls have round faces. Their eyeballs cannot rotate like other birds and mammals, but their neck is extremely flexible and can turn their head 180 degrees. Of all birds and animals on earth, owls are special in their own way. More
photo View full size Spotted Owlet! Login to leave a comment whoisvaibhav 121 days ago Is this the one that you told me about, the one following your movements? Awesome photo dost... More
This Spotted Owlet Athene brama was photographed at Sewagram, Wardha, India by Sushruti using a Quantaray 35-135 m.m. lens on a Minolta 430 RZ. This particular bird used to be seen almost every day over a period of several months at the same spot. - Mail Tiger Feedback Something wrong with this page? Please inform Yogesh Wadadekar at yogeshw@yahoo.com. Indian Wildlife URL: http://www.iucaa.ernet.in/~yogesh/owlet. More
Northern Spotted OwlThe Spotted Owlet (Athene brama) is a small owl which breeds in tropical Asia from India to Southeast Asia. They are very common species and have adapted to living in cities. They roost in small groups in the hollows of trees or in cavities in rocks or buildings. This species is a part of the larger grouping of owls known as typical owls, Strigidae. The Spotted Owlet is a common resident bird in open habitats including farmland and human habitation. More
Spotted Owlet may be heard and seen in the neighbourhood of almost every village, and almost in every compound in Lucknow, many often sqabbling and screeching together. It resides during the day in holes in trees; often only on branches, and, if disturbed, flies readily with facility even in bright sunshine. R1 Athene brama brama Vedanthangal Bird Sanctuary, Near Chennai, Tamilnadu, India, 3rd Aug., 2005. More
identical in appearance to the Spotted Owlet and thought that to identify it you would have to look at its habitat. "However, we studied all seven specimens," says Rasmussen, "and in so doing found that there were quite a few differences between the plumages of these two species that hadn't been made clear in the literature." Rasmussen also found that the scientific literature on the bird's distribution had been misleading. More
Spotted Owlets Athene brama at nest hollow 483/958 - 220.020.000.040 species-Athene-brama-4 Spotted Owlet Athene brama 484/958 - 220.020.000.050 species-Athene-brama-5 Spotted Owlet Athene brama 485/958 - 220.020.000.060 species-Athene-brama-6 Spotted Owlet Athene brama 486/958 - 220.020.000.070 species-Athene-brama-7 Spotted Owlet Athene brama 487/958 - 220.020.000.080 species-Athene-brama-8 Spotted Owlets Athene brama 488/958 - 220.020.000. More
The Spotted Owlet (Athene brama) is an owl which breeds in tropical Asia from India to Southeast Asia. This species is a part of the larger grouping of owls known as typical owls, Strigidae, which contains most species of owl. The other grouping is the barn owls, Tytonidae. More