King Bird-of-paradise
The King Bird-of-paradise is distributed throughout lowland forests of New Guinea and nearby islands. This so-called living gem is the smallest and most vividly colored among birds of paradise. The diet consists mainly of fruits and arthropods.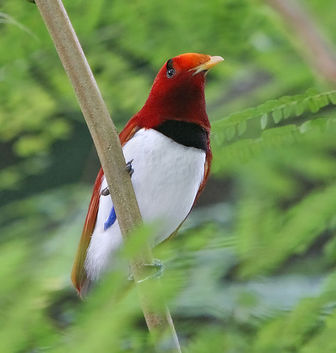 Picture of the King Bird-of-paradise has been licensed under a
GFDL
Original source
: Own work
Author
: Doug Janson
Permission
: GNU Free Documentation License
The King Bird-of-paradise is classified as Least Concern. Does not qualify for a more at risk category. Widespread and abundant taxa are included in this category.

Birds-of-paradise range in size from the King Bird-of-paradise at 50 g (1.8 oz) and 15 cm (5.9 in) to the Curl-crested Manucode at 44 cm (17 in) and 430 g (15 oz). The male Black Sicklebill, with its long tail, is the longest species at 110 cm (43 in). In all the males are larger and longer than the female, the differences ranging from slight to extreme. The wings are rounded and in some species structurally modified on the males in order to make sound. More
The King Bird-of-paradise, Cicinnurus regius is a small, approximately 16 cm long, passerine bird of the Paradisaeidae (Bird-of-paradise) family. The male is a crimson and white with bright blue feet and green-tipped fan-like plumes on its shoulder. The two elongated tail wires are decorated with emerald green disk feathers on its tip. The unadorned female is a brown bird with barring below. The King Bird-of-paradise is distributed throughout lowland forests of New Guinea and nearby islands. More
the King Bird-of-paradise is evaluated as Least Concern on the IUCN Red List of Threatened Species. It is listed on Appendix II of CITES. Read more at Wikipedia This entry is from Wikipedia, the user-contributed encyclopedia. If you find the content in the 'About' section factually incorrect, defamatory or highly offensive you can edit this article at Wikipedia. For more information on our use of Wikipedia please read our FAQ. More
For the purposes of our bird news services, King Bird-of-paradise is classed as Ungraded: species that are unlikely to appear as wild birds in Britain or Ireland hide section Most recent photos of King Bird-of-paradise (1) Kwatu lowland forest, Papua New Guinea Kwatu lowland forest, Papua New Guinea18/08/2009 Kwatu lowland forest, Papua New Guinea 18/08/2009 View all pictures of King Bird-of-paradise View all pictures of King Bird-of-paradise show section External Links (0) We More