Eared Dove
It is a close relative of the North American Mourning Dove. With that species, the Socorro Dove, and possibly the Galápagos Dove it forms a superspecies. The latter two are insular offshoots, the Socorro birds from ancestral Mourning Doves, the Galápagos ones from more ancient stock.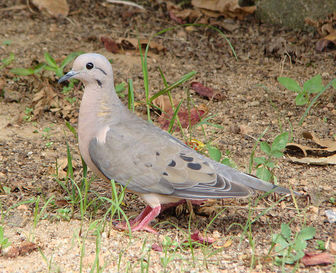 Picture of the Eared Dove has been licensed under a Creative Commons
Attribution-Share Alike
.
Original source
: Pomba-de-bando (Zenaida auriculata)Uploaded by Snowmanradio
Author
: Cláudio Dias Timm from Rio Grande do SulCamera location
The Eared Dove is classified as Least Concern. Does not qualify for a more at risk category. Widespread and abundant taxa are included in this category.

The Eared Dove, Zenaida auriculata, is a New World tropical dove. It is a resident breeder throughout South America from Colombia to southern Argentina and Chile, and on the offshore islands from the Grenadines southwards. It may be a relatively recent colonist of Tobago and Trinidad. It appears to be partially migratory, but details are little known, although migration may be driven by food supplies. It is a close relative of the North American Mourning Dove. More
The Eared Dove is 24cm long with a long wedge-shaped tail, and weighs normally about 112g . Adult males have mainly olive-brown upperpart plumage, with black spots on the wings. The head has a grey crown, black line behind the eye, and the blue-black on the lower ear coverts (feathers covering the ears). These black markings give the species its English and specific name. The underparts are vinous, and the tail is tipped with cinnamon. More
Eared Doves will keep you company most anywhere on the island. Photo Jeff Wells A medium-sized, tan-colored dove with black spots on the wings and a black line behind the eye—thus the name Eared Dove. Seeing them might make North American birders homesick for the similarly plumaged Mourning Doves. Expect a visit from these little beggars when dining at an open-air restaurant. More
The Eared Dove is common to abundant in savannahs and other open areas, including cultivation, and it readily adapts to human habitation, being seen on wires and telephone posts near towns in Trinidad and Venezuela, almost in all public spaces of large urban areas such as Bogot More
Eared Doves provide the last big-bag shooting experience in the world. There are reckoned to be more than 23 million of these doves in the fields around Cordoba in northern Argentina and it is not unknown for a single gun to shoot 1000 birds in a day. The scale of this wing-shooting recalls the numbers of Passenger Pigeons taken by North American gunners in the 1800s. That hunting pressure brought the Passenger Pigeon to rapid extinction, but the Eared dove seems to be more resilient. More
The eared dove is fairly common in the more open areas, especially on Tobago. It is probably a partial migrant, for numbers seem to increase during the wet season, when it may be seen in small flocks. It is a medium sized pigeon, generally greyish brown with conspicious black spots on the wings coverts; it also has black markings on the side of the head, with an iridescent violet patch beside its ears. Although the sexes are roughly similar, the female is duller on the whole. More
The Eared Dove is medium sized, greyish brown with black ont he wing covets, with black and violet markings on the side of the head. The nest is a cup of twigs usually placed fairly low in the fork of a tree branch, commonly that of a Mangrove tree where two white eges are laid. Both parents incubate and rear the young. More
The Eared Dove, Zenaida auriculata, is a New World tropical dove. It is a resident breeder throughout South America from Colombia to southern Argentina and Chile, and on the offshore islands from the Grenadines southwards. More
The Argentina eared dove (Zenaida auriculata) is the country's most sought-after quarry. The Argentine eared dove is very similar to our mourning dove in size and flight, but of course, the quantities and "no limit" shooting make for a truly world-class experience. The largest populations of Argentina doves are found in Cordoba Province in the geographical center of the country and Salta Province in far northwest Argentina. More
Pigeons, Eared Dove populations in Argentina and Bolivia sometimes "darken the skies". Thus, it seems that populations on the sporting estates of Argentina are holding their own, with the birds breeding four times a year and thriving on the vast areas of grain, some grown for their benefit, most of it on commercial farms which are happy to support the dove shooting. More