Snow Mountain Quail
An Indonesian endemic, the Snow Mountain Quail is confined to New Guineas highest elevations, the Snow Mountains of Irian Jaya. This little known bird is protected only by the remoteness of its habitat; an inaccessible area at an altitude above 3,000 metres .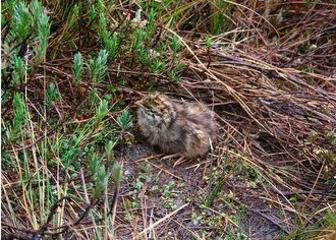 Picture of the Snow Mountain Quail has been licensed under a Creative Commons
Attribution
.
Original source
: Charles Davies
Author
: Charles Davies
Permission
: The copyright holder of this file, Charles Davies, allows anyone to use it for any purpose, provided that the copyright holder is properly attributed. Redistribution, derivative work, commercial use, and all other use is permitted.
The Snow Mountain Quail is classified as Near Threatened (NT), is close to qualifying for or is likely to qualify for a threatened category in the near future.

The Snow Mountain Quail, Anurophasis monorthonyx is a large, approximately 28cm (11in) long, dark brown quail of Alpine grasslands. It is the only member of the genus Anurophasis. It has a brown plumage, a horn-coloured bill, yellow legs and a brown iris. The underparts of the female are whitish and more heavily black barred than in the male. An Indonesian endemic, the Snow Mountain Quail is confined to New Guineas highest elevations, the Snow Mountains of Irian Jaya. More
Snow mountain quail (Anurophasis monorthonyx) = Species information - * Facts & Status * Description * Glossary & References * All * * Back to media Snow mountain quail chick Snow mountain quail chickPrint factsheet Facts - More
Snow Mountain Quail Anurophasis monorthonyx = Described by: van Oort (1910) Alternate common name(s): Snow Mountains Quail, New Guinea Quail Old scientific name(s): Coturnix monorthonyx Photographs No photographs are available for this species Range W. New Guinea; Restricted range; Two populations; Irian Jaya (Kemabu Plateau, Mt. Wilhelmina and Mt. Carstenz in the Snow Mountains). More
* Snow Mountain Quail, Anurophasis monorthonyx * Genus Perdicula * Jungle Bush-quail, Perdicula asiatica * Rock Bush-quail, Perdicula argoondah * Painted Bush-quail, Perdicula erythrorhyncha * Manipur Bush-quail, Perdicula manipurensis * Genus Ophrysia * Himalayan Quail, Ophrysia superciliosa (Critically More
Snow Mountain Quail Anurophasis monorthonyx, Archbold's Owlet-Nightjar Aegotheles archboldi, Short-bearded Melidectes Melidectes nouhuysi, Lorentz's Whistler Pachycephala lorentzi, Splendid Astrapia Astrapia splendidissima, and Snow Mountain Munia Lonchura montana do range further to the east into the Star and Victor Emanuel Mountains. The latter mountains lie across the border in Papua New Guinea and were first sighted by the great Italian explorer L. M. D'Albertis while cruising the upper Fly River in 1867. D'Albertis named this lofty range for his King. More
Snow Mountain Quail (Anurophasis monorthonyx): The Snow Mountain Quail is a large gamebird found at high altitudes in Alpine climates and grasslands. During breeding season, the Snow Mountain Quail only lays three to four eggs. Stubble Quail (Coturnix pectoralis): Originally from Australia, the Stubble Quail is a gamebird quail species not commonly raised for domestic purposes. More
The Snow Mountain Quail has brown plumage yellow legs and brown eyes. Painted Brush Quails have a red beak and red legs. Ruddy Quails also have a red beak and red legs. California Quails are a mixture of blacks, browns, grays and whites. Gambel's Quail is a mixture of grays and whites. Montezuma Quails are plumper than others and have a short tail. More
* Snow Mountain Quail, Anurophasis monorthonyx : The Snow Mountain Quail is a large quail, approximately 11 inches (28 cm.) in length with a dark brown plumage, a horn-colored bill, yellow legs and brown irises. The underparts of the female are whitish and more heavily black barred than in the male. More
Snow Mountain Quail Anurophasis monorthonyx 2009 IUCN Red List Category (as evaluated by BirdLife International - the official Red List Authority for birds for IUCN): Near Threatened Justification Although its population is likely to be moderately small, much of this species's small and fragmented range is inaccesible, rendering it fairly secure. However mining and road construction are increasingly allowing access to highland areas where unregulated hunting quickly follows, and is likely to be leading to a decline. More
Snow Mountain Quail (Anurophasis monorthonyx) Oort, 1910 summary taxon grid map Wikipedia NatureServe Google: Web|Scholar ITIS Birdlife Google|Flickr Xeno-Canto - NEAR THREATENED Order: Galliformes Family: Phasianidae English: Snow Mountain Quail Scientific: Anurophasis monorthonyx Protonym: Anurophasis monorthonyx Avibase ID: 6A668E882BDEAC1F Taxomic Serial Number: More
Snow Mountain Quail, Anurophasis monorthonyx is a large approximately 28cm (11in long dark brown Quail of Alpine Grasslands It is the Perdicula is a Genus of Quail. Species list Jungle Bush-quail, ( Perdicula asiatica) The Himalayan Quail, Ophrysia superciliosa is a medium-sized Quail belonging to the pheasant family. Pheasants are a group of large Birds in the order Galliformes. Partridges are Birds in the Pheasant family Phasianidae. More
Snow Mountain Quail (Anurophasis monorthonyx) by Todd Mark. More
Snow Mountain Quail are regular in the flat grasslands – you flush a pair every day or so. The pair we flushed on the way back down from the Trikora Summit area left behind a frightened chick (see photo). Our itinerary was as follows: 7 July – Arrived at pass between Ibele Valley and Lake Habbema. 8 July – Hike along road to Lake Habbema. More
Snow Mountain Quail Anurophasis monorthonyx IUCN Red List Criteria Near Threatened (criteria nearly met) B1a+b(iii,v); C2a(i); D2 IUCN Red List history Year Category 2008 Near Threatened 2004 Near Threatened 2000 Lower Risk/Near Threatened 1994 Lower Risk/Near Threatened 1988 More
MacGregor's Bird-of-Paradise, Snow Mountain Quail, Snow Mountain Mannikin, Mountain Firetail, Short-bearded Melidectes, Lorentz's Whistler, Lesser Melampitta, Salvadori's Teal, New Guinea Woodcock, Archbold's Nightjar, Splendid Astrapia and perhaps even the rare Archbold's Bowerbird. Next stop is the hot and steamy lowland rainforest in the shadow of the Cyclops Mountains where delights such as Salvadori's Fig Parrot, Buff-faced Pygmy Parrot and Blue-black Kingfisher await, and our Bird-of-Paradise tally is boosted by Pale-billed Sicklebill, Twelve-wired, Lesser and King Birds-of-Paradise. More