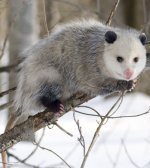 The Virginia Opossum (Didelphis virginiana) is nocturnal animal, that was introduced in California in 1890, and since then has been very succesful and can be found from Mexico to Canada and from coast to coast throughout North America and appear to be extending their range. They have prehensile tails which can be used to grab branches. The name 'opossum' is sometimes shortened to 'possum', which actually is the name for an Australian group of marsupials. These are distinct from opossums which are only found in North and South America. The Virginia opossum is probably best know for its last resort to escaping predators, "playing possum". As a last resort it can fake death to lose interest of its predator. In the United states, their main threat is getting killed by a car.

Interesting fact
: the Virginia Opossum (Didelphis virginiana) is the only marsupial species found in North America.
Picture of the virginia opossum by Cody Pope, licensed under Attribution ShareAlike 2.5
Keywords: nocturnal
The Virginia opossum is listed as Least Concern (LR/lc), lowest risk. Does not qualify for a more at risk category. Widespread and abundant taxa are included in this category, on the IUCN Red List of Threatened Species
Namings for the Virginia opossum
A young / baby of a Virginia opossum is called a 'joey'. The females are called 'jill' and males 'jack'.
Some facts about the
Virginia opossum
Adult weight : 3 kg (6.6 lbs)
Maximum longevity : 7 years
Female maturity :184 days
Male maturity : 243 days
Gestation : 12 days
Weaning : 102 days
Litter size : 15
Interval between litters : 122 days
Weight at weaning : 0.143 kg (0.3146 lbs)
Basal metabolic rate : 5 W
Body mass : 2.847 kg (6.2634 lbs)
Temperature : 34.85 °C (94.73 °F)
Custom Search
Play animal guess