Cape seahorse
IOL News: Single seahorse dad mourns loss of wife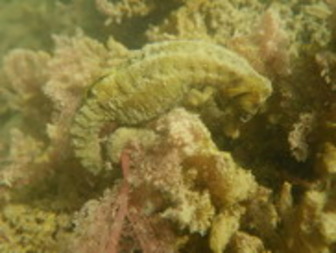 Picture of the Cape seahorse has been licensed under a Creative Commons
Attribution-Share Alike
.
Original source
: Own work Author Tracy E Meintjes
Author
: Tracy E Meintjes
The Cape seahorse lives in the demersal, non-migratory, brackish, marine, depth range 0 - 20 m environment.
The Cape seahorse is classified as Endangered (EN), considered to be facing a very high risk of extinction in the wild.

The cape seahorse or knysna seahorse (Hippocampus capensis) is a species of fish in the Syngnathidae family. It is endemic to South Africa. It lives in the Keurbooms River in Plettenberg Bay throughout the Knysna lagoon and up to Swartvlei in Sedgefield. More
The Cape Seahorse has been one to really take to our systems, we have very low mortality, probably about 95% survival, which is much greater than in the wild. More
5 Cape seahorse, Coastal Wetlands, Fishes, Hippocampus capensis The cape seahorse has the smallest known range of any seahorse—you'll find them in only a few bays a... Hippocampus capensis. Habitat: Coastal Wetlands ... www.montereybayaquarium.org 6 Seahorses : Ocean Rider, Inc. More
Cape seahorse (Photo © Kelvin Boot, National Marine Aquarium, UK) At the Aquarium - Natural History - The cape seahorse has the smallest known range of any seahorse—you'll find them in only More
Cape seahorses change color readily and captive-bred capensis often show bright colors ranging from emerald green to amber and orange. Breeding Habits: Breeding Season: summer months (September to April) when water temperatures rise above 68F (20C). More
Common names
Cape seahorse in English
Hippocampus capensis in Catalan (Català)
knysna seahorse in English
Knysna-seeperdjie in Afrikaans
南非海馬 in Mandarin Chinese
南非海馬 in Unknown
南非海马 in Mandarin Chinese
南非海马 in Unknown

Custom Search