Japanese angelshark
Identification of the species is based on the following characters: line of thorny denticles along the midback present; no prominent ocelli on the pectoral fins; pelvic fin tips do not reach or surpass the first dorsal fin origin; rusty brown coloration above with fine spotting pattern of numerous small square-shaped spots throughout; wide but shallow upper lip arch ; large box-like papillae along inside anterior edge of spiracles; interspiralce width greater than interorbital width.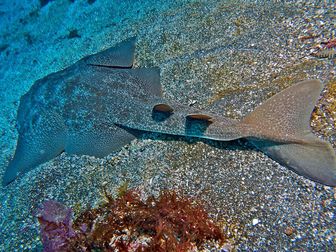 Picture of the Japanese angelshark has been licensed under a Creative Commons
Attribution-Share Alike
.
Original source
: カスザメ Author RYO SATO from Hamamatsu, Shizuoka, Japan
Author
: RYO SATO from Hamamatsu, Shizuoka, Japan
The Japanese angelshark lives in the demersal, marine environment.
Range of Japanese angelshark (in blue) Greyreefsharksmall2. More
The Japanese angelshark, Squatina japonica, is an angel shark of the family Squatinidae found in the western Pacific from Japan, the Yellow Sea, Korea, northern China, and the Philippines between latitudes 41st parallel north and 19th parallel north.... More
Except for the Japanese angelshark, Squatina japonica, which reaches 2m, are all others of smaller size. Angel sharks have an ovoviviparous style of reproduction (aplacental viviparoity). All 13 species belong to the same genus. More
Common names
Ange de mer Kasuzame in French (français)
Angelote japonés in Spanish (español)
Change angel shark in English
Change canopy shark in English
Japanese angel shark in English
Japanese angelfish in English
Japanese angelshark in English
Japanese monkfish in English
Japanse zee-engel in Dutch (Nederlands)
Japanse zee-engel in Unknown
Japansk havengel in Danish (dansk)
Japansk havsängel in Swedish (Svenska)
Kasuzame in Japanese (日本語)
Squatina japonica in French (français)
ангел японский морской in Russian (русский язык)
日本扁鯊 in Mandarin Chinese
日本扁鯊 in Unknown
日本扁鲨 in Mandarin Chinese
日本扁鲨 in Unknown
日本琵琶鮫 in Mandarin Chinese
日本琵琶鮫 in Unknown
日本琵琶鲛 in Mandarin Chinese
日本琵琶鲛 in Unknown
전자리상어 in Korean (한국어)

Custom Search