Argentine angelshark
Reproduction is ovoviviparous, with 7 to 11 pups in a litter.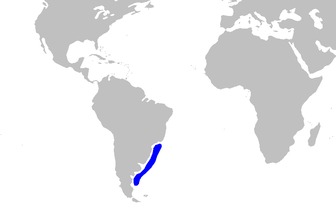 Picture of the Argentine angelshark has been licensed under a
GFDL
Original source
: Own work Author Chris_huh Permission (
Author
: Chris_huh Permission (
Permission
: GNU Free Documentation License
The Argentine angelshark lives in the demersal, marine, depth range 100 - 400 m environment.
The Argentine angelshark is classified as Endangered (EN), considered to be facing a very high risk of extinction in the wild.

Range of Argentine angelshark (in blue) Greyreefsharksmall2. More
The Argentine angelshark, Squatina argentina, is an angel shark of the family Squatinidae found in the subtropical waters of the southwest Atlantic from southern Brazil to Argentina between latitudes 19th parallel south and 53rd parallel More
Common names
Ange de mer argentin in French (français)
Angelito in Spanish (español)
Angelote argentino in Spanish (español)
Angular angel shark in English
Anjo in Portuguese (Português)
Anjo-do-mar in Portuguese (Português)
Argentijnse zee-engel in Dutch (Nederlands)
Argentine angel shark in English
Argentine angelfish in English
Argentine angelshark in English
Argentinsk havengel in Danish (dansk)
Cação-anjo in Portuguese (Português)
Cação-viola in Portuguese (Português)
Gebogen zee-engel in Dutch (Nederlands)
Peixe-anjo in Portuguese (Português)
Squatina argentina in French (français)
南美扁鯊 in Mandarin Chinese
南美扁鲨 in Mandarin Chinese
阿根廷扁鯊 in Mandarin Chinese
阿根廷扁鲨 in Mandarin Chinese

Custom Search