Hooktooth dogfish
The type specimen is held at the National Natural History Museum, Santiago, Chile.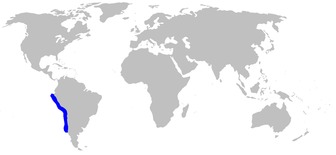 Picture of the Hooktooth dogfish has been licensed under a
GFDL
Original source
: Compagno, Leonard; Dando, Marc & Fowler, Sarah (2005). Sharks of the World. Collins Field Guides. ISBN 0-00-713610-2.
Author
: Chris_huh Permission (
Permission
: GNU Free Documentation License
The Hooktooth dogfish lives in the demersal, marine, depth range 110 - 560 m environment.
Range of hooktooth dogfish (in blue) Sharks portal The hooktooth dogfish, Aculeola nigra, is a small, little known dogfish, the only member of the genus Aculeola. More
No image of Hooktooth dogfish found in the Shark Database Range Map Earth Map Systematics Phylum: Vertebates (Chordata) Class: Carlilagenous Fishes (Chondrichthyes) Order: Dogfish sharks (Squaliformes) More
No image of Hooktooth dogfish found in the Shark Database - The Genera of the Family Dogfish sharks * Aculeola > more * Centrophorus > more * Centroscyllium More
The hooktooth dogfish shark, Aculeola nigra, is a tye of dogfish shark with 60 rows of hook-shaped teeth. This shark is about 60 cm long. This bottom dweller lives in deep parts of the eastern Pacific Ocean. More
Common names
Aculeola nigra in French (français)
Ange de l'Atlantique in French (français)
Angel de l'Atlantique in French (français)
Haaktandlantaarnhaai in Dutch (Nederlands)
Haaktandlantaarnhaai in Unknown
hooktooth dogfish in English
Squale noir in French (français)
Squale noire in French (français)
Tiburón ángel in Spanish (español)
Tollo negro in Spanish (español)
Tollo negro de cachos in Spanish (español)
短棘鯊 in Mandarin Chinese
短棘鯊 in Unknown
短棘鲨 in Mandarin Chinese
短棘鲨 in Unknown

Custom Search