Sparsely-spotted stingaree
The dixons stingaree, sparsely-spotted stingaree, or white-spotted stingaree is a species of fish in the Urolophidae family.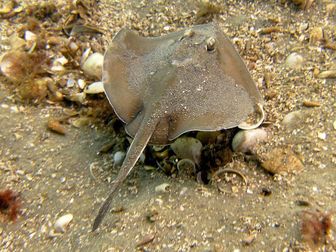 Picture of the Sparsely-spotted stingaree has been licensed under a Creative Commons
Attribution-Share Alike
.
Original source
: small_ray Author dennis and aimee jonez
Author
: dennis and aimee jonez
The Sparsely-spotted stingaree lives in the demersal, marine, depth range 5 - 150 m environment.
The Sparsely-spotted Stingaree (Urolophus paucimaculatus) is a widespread stingaree species with a variable body colour from light to mid-grey or pale brown. A pale U-shaped line joins the eyes and similar hazy lines occur on the wings. More
Common names
Dixon's stingaree in English
Dixons stingaree in English
Fåplettet pigrokke in Danish (dansk)
Ray in English
Sparsely-spotted stingaree in English
White-spotted stingaree in English
Witgevlekte doornrog in Dutch (Nederlands)
少斑扁魟 in Chinese (中文)
少斑扁魟 in Mandarin Chinese

Custom Search