Fanray
Platyrhina species have rounded heart-shaped pectoral fin discs with short, blunt snouts.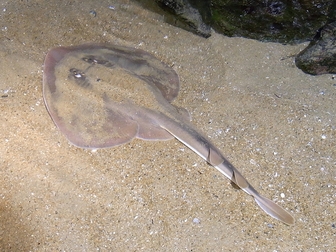 Picture of the Fanray has been licensed under a Creative Commons
Attribution-Share Alike
.
Original source
: http://opencage.info/pics.e/large_13321.asp Author OpenCage.info
Author
: OpenCage.info Licensing This file is licensed under the
The Fanray lives in the demersal, oceanodromous, marine environment.
The Amoy fanray has been reported to give birth to litters of 10 in July and August. Research on fanrays in Ariake Bay, Japan, indicates that they are faster-growing, earlier-maturing, and shorter-lived than many other ray species. Male fanrays mature at 2. More
* Fanray, Platyrhina sinensis (Bloch & Schneider, 1801) * Genus Platyrhinoidis * Thornback guitarfish, Platyrhinoidis triseriata (Jordan & Gilbert, 1880) * More
Fanray on May 12th, 2008 9:58 am DO YOU REALLY WANT THE CLINTONS BACK IN OFFICE? THINK AGAIN?] />> />> Just a quick More
목탁가오리 | fanray/thomback ray Platyrhina sinensis 연골어류(軟骨魚類) 홍어목 목탁가오리과의 바닷물고기. More
Common names
Cá Gi?ng in Vietnamese (Tiếng Việt)
Cá Giống in Vietnamese (Tiếng Việt)
Chinese waaierrog in Dutch (Nederlands)
Fanray in English
Japansk tornrygget rokke in Danish (dansk)
Mok-t'ak-ka-o-ri in Korean (한국어)
Pí láng gu in Mandarin Chinese
Thornback ray in English
Tuán shàn yáo in Mandarin Chinese
Uchiwazame in Japanese (日本語)
Zhōng guó tuán shàn yáo in Mandarin Chinese
中国团扇鳐 in Mandarin Chinese
中国黄点鯆 in Mandarin Chinese
中國團扇鰩 in Mandarin Chinese
中國黃點鯆 in Mandarin Chinese
魴魚 in Mandarin Chinese
鲂鱼 in Mandarin Chinese
목탁가오리 in Korean (한국어)

Custom Search