Amoy fanray
Platyrhina species have rounded heart-shaped pectoral fin discs with short, blunt snouts.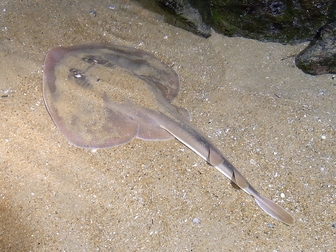 Picture of the Amoy fanray has been licensed under a Creative Commons
Attribution-Share Alike
.
Original source
: http://opencage.info/pics.e/large_13321.asp Author OpenCage.info
Author
: OpenCage.info Licensing This file is licensed under the
The Amoy fanray lives in the demersal, marine environment.
The Amoy fanray has been reported to give birth to litters of 10 in July and August. Research on fanrays in Ariake Bay, Japan, indicates that they are faster-growing, earlier-maturing, and shorter-lived than many other ray species. Male fanrays mature at 2. More
* Amoy Fanray is offline Amoy Fanray Singer-songwriter Indie-rock Poprock Gent (Zottegem) Amoy Fanray Bekijk alles waar ik lid van ben Reacties More
Common names
Amoy fanray in English
Amoywaaierrog in Dutch (Nederlands)
Amoywaaierrog in Unknown
林氏团扇鳐 in Mandarin Chinese
林氏团扇鳐 in Unknown
林氏團扇鰩 in Mandarin Chinese
林氏團扇鰩 in Unknown
林氏黃點鯆 in Mandarin Chinese
林氏黃點鯆 in Unknown
林氏黄点鯆 in Mandarin Chinese
林氏黄点鯆 in Unknown

Custom Search