White-rimmed stingray
The white-edge freshwater whipray was described by Leonard Compagno and Tyson Roberts in a 1982 issue of Environmental Biology of Fishes, with the specific epithet signifer in reference to its distinctive coloration.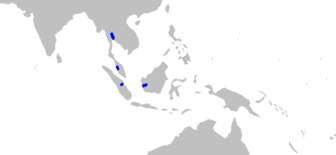 The White-rimmed stingray lives in the benthopelagic, freshwater, brackish environment.
The White-rimmed stingray is classified as Endangered (EN), considered to be facing a very high risk of extinction in the wild.

Another name for a White-rimmed stingray is a Himantura signifer Source: Digital Fish Funnel, July 27, 2004 report as bad entry | send to a friend via email Add your own definition of White-rimmed stingray. More
Common names
freshwater stingray in English
Krabane khao in Thai (ไทย)
Pale whipray in English
Pari in Malay (bahasa Melayu)
Pari sungai in Malay (bahasa Melayu)
Trey bawbel in Khmer (ភាសាខ្មែរ)
White-edge freshwater whip ray in English
White-edge freshwater whipray in English
White-rimmed stingray in English
Witgerande zoetwaterpijlstaartrog in Dutch (Nederlands)
大窄尾魟 in Chinese (中文)
大窄尾魟 in Mandarin Chinese

Custom Search