Marbled whipray
The marbled whipray, Himantura oxyrhyncha, is an extremely rare, little-known species of stingray in the family Dasyatidae, native to several freshwater rivers in Southeast Asia.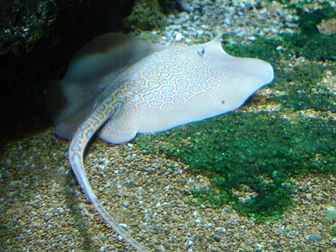 Picture of the Marbled whipray has been licensed under a Creative Commons
Attribution
.
Original source
: DSC02751 Author Franklin Samir Dattein from Porto A
Author
: Franklin Samir Dattein from Porto Alegre, Brazil
The Marbled whipray lives in the demersal, freshwater, brackish environment.
The Marbled whipray is classified as Endangered (EN), considered to be facing a very high risk of extinction in the wild.

The Longnose Marbled Whipray (Himantura oxyrhyncha)) is a very rare species, known from only five specimens in museum collections worldwide,with three being the syntypes from Phnom Penh, Cambodia. It is known to occur from only three or four riverine systems. More
Common names
Gemarmerde langsnuitpijlstaartrog in Dutch (Nederlands)
Longnose marbled whip ray in English
Marbled freshwater stingray in English
Marbled whipray in English
Marmoreret piskerokke in Danish (dansk)
Trnucha ostronosá in Czech (česky)
尖吻窄尾魟 in Chinese (中文)
尖吻窄尾魟 in Mandarin Chinese

Custom Search