Thorntail stingray
The thorntail stingray, black stingray, or longtail stingray, Dasyatis thetidis, is a species of stingray in the family Dasyatidae, found off southern Africa, Australia, and New Zealand.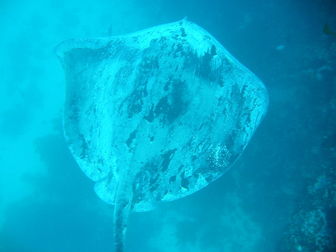 Picture of the Thorntail stingray has been licensed under a Creative Commons
Attribution
.
Original source
: Stingray Author Mark Whatmough
Author
: Mark Whatmough
The Thorntail stingray lives in the demersal, marine, depth range 0 - 440 m environment.
Thorntail Stingray Pictures - Dasyatis thetidis Images Black Stingray / Thorntail Stingray Photographs file size 6 megapixels. More
View all available Thorntail Stingray Pictures in the Shark Pictures Database Common Names: Thorntail stingray, Black stingray Latin Name: Dasyatis thetidis Family: Dasyatidae Identification: Rhomboid disc, Adults have large thorns More
The thorntail stingray, black stingray or longtail stingray, Dasyatis thetidis, belongs to the stingray family Dasyatidae and is found in around the Indian Ocean, southern Australia and New Zealand, at depths of up to 440 m. Its length is up to 400 cm. More
* Thorntail stingray, Dasyatis thetidis (Ogilby, 1899). * Tortonese's stingray, Dasyatis tortonesei (Capapé, 1975). * Cow stingray, Dasyatis ushiei (Jordan & Hubbs, 1925). More
The thorntail stingray is a large plain stingray with a broadly angular snout and pectoral disc, a thick-based and tapering tail ending in a slender whip, which is much longer than the body. More
Thorntail stingrays are sometimes mistaken for short-tail stingrays More
Thorntail stingray, Dasyatis thetidis Ogilby, 1899. ... en.wikipedia.org 7 THORNTAIL STINGRAY Latin Name: Dasyatis thetidis. Family: Dasyatidae ... Similar species: Shorttail stingray (Dasyatis brevicaudatus) shares a simpatric ... elasmodiver. More
Common names
Black skate in English
Black stingaree in English
Black stingray in English
Doringstert-pylstert in Afrikaans
Ignelivatoz in Turkish (Türkçe)
Long-tailed stingaree in English
Longtail black stingray in English
Longtail stingray in English
Pague in Surigaonon
Pari duri in Malay (bahasa Melayu)
Pastinaca in Italian (Italiano)
Pastinaca in Spanish (español)
Peitschenrochen in German (Deutsch)
Pigrokke in Danish (dansk)
Pilrokke in Danish (dansk)
Pilrokke in Norwegian (Norsk)
Pilskate in Norwegian (Norsk)
Sálahi trygéna in Greek (Ελληνικά)
Sálahi trygéna in Greek, Modern (1453)
Siba zutulja in Serbian (српски језик)
Sort pigrokke in Danish (dansk)
Stechrochen in German (Deutsch)
Stingrocka in Swedish (Svenska)
Thorn stingray in English
Thorntail ray in English
Thorntail stingray in English
Trigóna in Greek (Ελληνικά)
Trigóna in Greek, Modern (1453)
Trigono in Italian (Italiano)
Trnucha ostnoocasá in Czech (česky)
Uge cauda-espinhosa in Portuguese (Português)
Volina in Serbian (српски језик)
Whai in Maori (te reo Māori)
Zwarte pijlstaartrog in Dutch (Nederlands)
棘尾魟 in Chinese (中文)
棘尾魟 in Mandarin Chinese

Custom Search