Rat-tailed stingray
The diamond stingray, Dasyatis dipterura, is a species of stingray in the family Dasyatidae.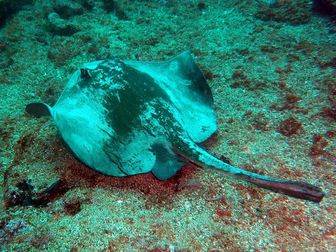 Picture of the Rat-tailed stingray has been licensed under a Creative Commons
Attribution-Share Alike
.
Original source
: DSCN1748.jpg Author Rein Ketelaars from Nijmegen, Neth
Author
: Rein Ketelaars from Nijmegen, Netherlands
The Rat-tailed stingray lives in the demersal, marine, depth range 10 - 355 m environment.
Nothing known about the Rat-tailed stingray
Common names
Batana in Spanish (español)
Batea in Spanish (español)
Batea F. Müller, 1865 in Spanish (español)
Diamantpigrokke in Danish (dansk)
Diamantpijlstaartrog in Dutch (Nederlands)
Diamond stingray in English
Hawaiian sting ray in English
Hawaiian stingray in English
Hīhīmanu in Hawaiian
K'ak'ew' in Salish
lu-pe in English
Lupe in Hawaiian
Ogoncza diamentowa in Polish (polski)
Pastenague batana in French (français)
Piskehalet pigrokke in Danish (dansk)
Rat-tailed stingray in English
Raya in Spanish (español)
Raya batana in Spanish (español)
Raya con espinas in Spanish (español)
Raya de espina in Spanish (español)
Raya diamante in Spanish (español)
Raya látigo in Spanish (español)
raya látigo diamante in Spanish (español)
raya-látigo in sp
Raya-látigo batana in Spanish (español)
Stingray in English
Whip-tailed stingray in English
Whiptail stingray in English
菱魟 in Chinese (中文)
菱魟 in Mandarin Chinese
鞭尾魟 in Chinese (中文)
鞭尾魟 in Mandarin Chinese

Custom Search