Giant sea-bass
There are published reports of giant sea bass reaching a size of 2.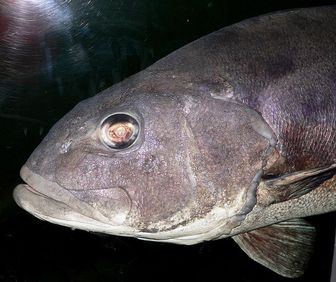 Picture of the Giant sea-bass has been licensed under a
GFDL
Permission
: GNU Free Documentation License
The Giant sea-bass lives in the demersal, marine, depth range 5 - 46 m environment.
The Giant sea-bass is classified as Critically Endangered (CR), facing an extremely high risk of extinction in the wild.

Nothing known about the Giant sea-bass
Common names
Bar gigantesque in French (français)
Barréan géant in French (français)
Black jewfish in English
Black sea bass in English
California black sea bass in English
Californische jodenvis in Dutch (Nederlands)
Californische jodenvis in Unknown
Californisk havbars in Danish (dansk)
Cernia gigante in Italian (Italiano)
giant sea bass in English
Giant sea-bass in English
Giant seabass in English
Kæmpehavbars in Danish (dansk)
Kokuchi-ishinagi in Japanese (日本語)
Lubina in sp
Lubina gigante in Spanish (español)
Mero pescada in Spanish (español)
Mero-gigante-do-Pacífico in Portuguese (Português)
Pacific back sea bass in English
Pacific Jewfish in English
pescara in sp
pescara in Spanish (español)
Riesenjudenfisch in German (Deutsch)
Sea bass in English
Seabass in English
Strzepiel gigantyczny in Polish (polski)
судак гигантский морской in Russian (русский язык)
巨坚鳞鲈 in Mandarin Chinese
巨坚鳞鲈 in Unknown
巨堅鱗鱸 in Mandarin Chinese
巨堅鱗鱸 in Unknown

Custom Search