Danube ruffe
Balon's ruffe is a species of fish in the Percidae family.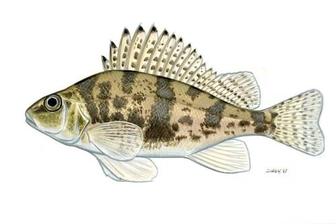 Picture of the Danube ruffe has been licensed under a Creative Commons
Attribution-Share Alike
.
Original source
: http://zsoldoseladokepek.freeblog.hu/ Author Zsoldos Márton Permission (
Author
: Zsoldos Márton Permission (Reusing this file)
The Danube ruffe lives in the benthopelagic, freshwater, pH range: 6.8 - 7.8, dH range: 10 - 20 environment.
The Danube ruffe is a small fish, growing to a maximum size of 12cm. Though small, the Danube ruffe is a resilient fish, doubling its population in less than 15 months. More
Common names
Balon's Ruffe in English
Balons hork in Danish (dansk)
Balons Kaulbarsch in German (Deutsch)
Danube ruffe in English
Donau-Kaulbarsch in German (Deutsch)
Gymnocephalus baloni in Catalan (Català)
Gymnocephalus baloni in Polish (polski)
Hrebenacka vysoká in Slovak (slovenčina)
Ježdík dunajský in Czech (česky)
Ježdík dunajský in Czech (česky)
Széles durbincs in Hungarian (Magyar)
Széles durbincs in Unknown
巴底梅花鱸 in Mandarin Chinese
巴底梅花鱸 in Unknown
巴底梅花鲈 in Mandarin Chinese
巴底梅花鲈 in Unknown

Custom Search