Clarence River Cod
Eastern freshwater cod are native to the Clarence River system in northern New South Wales, Australia.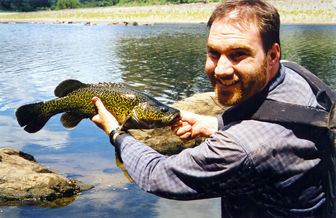 Picture of the Clarence River Cod has been licensed under a
GFDL
Original source
: Transferred from en.wikipedia to Commons by User:Bidgee using
Author
: Original uploader was Codman at en.wikipedia
Permission
: GNU Free Documentation License
The Clarence River Cod lives in the benthopelagic, freshwater environment.
The Clarence River Cod is classified as Endangered (EN), considered to be facing a very high risk of extinction in the wild.

Be aware that the Clarence River Cod is an endagered species and must be released when caught. edit * Sailing. The Clarence River is one of the best sailing rivers in the world. More
It is not known if Clarence River Cod occur in all of these: * Border Ranges National Park. * Guy Fawkes National Park. * Guy Fawkes Nature Reserve. * Nymboida National Park. More
At first I thought it was a large Clarence River Cod that are known to inhabit these parts. My next guess as the kayak was being towed around in the dark was a migrating whale that had lost her way. More
Common names
Clarence River Cod in English
East coast cod in English
Eastern cod in English
Eastern freshwater cod in English
Estuary cod in English
Östlig flodabborre in Swedish (Svenska)
艾氏麥鱈鱸 in Mandarin Chinese
艾氏麥鱈鱸 in Unknown
艾氏麦鳕鲈 in Mandarin Chinese
艾氏麦鳕鲈 in Unknown

Custom Search