Knout goby
The Knout Goby inhabits the inshore waters, estuaries, brackish- and fresh-water lagoons of the Black Sea and the Sea of Azov.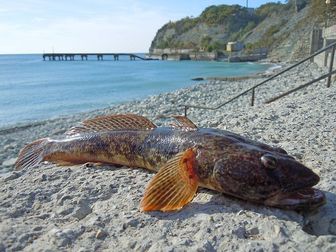 Picture of the Knout goby has been licensed under a Creative Commons
Attribution-Share Alike
.
Original source
: Own work Author Ykvach
Author
: Ykvach
The Knout goby lives in the demersal, brackish, marine, depth range 20 - 100 m environment.
Nothing known about the Knout goby
Common names
Bychok-knut in Russian (русский язык)
Bychok-martovik in Russian (русский язык)
Gobie à tête de crapaud in French (français)
Gobie à tête plate in French (français)
Gobio sapo in Spanish (español)
Hanos in Romanian (română)
Hanos in Rumanian
Knout goby in English
Konnatokko in Finnish (suomen kieli)
Krötengrundel in German (Deutsch)
Kurbagakayasi baligi in Turkish (Türkçe)
Kurbağakayası balığı in Turkish (Türkçe)
Lechos in Bulgarian (български език)
Mesogovios in Greek (Ελληνικά)
Mesogovios in Greek, Modern (1453)
Stronghil in Rumanian
toad goby in English
Μεσογωβιός in Greek (Ελληνικά)
Μεσογωβιός in Greek, Modern (1453)
Лихнус in Bulgarian (български език)
扁头鰕虎鱼 in Mandarin Chinese
扁頭鰕虎魚 in Mandarin Chinese
蟾头中鰕虎鱼 in Mandarin Chinese
蟾頭中鰕虎魚 in Mandarin Chinese

Custom Search