Uaru fernandezyepezi
Uaru fernandezyepezi is a species of fish from the family Cichlidae native to South America.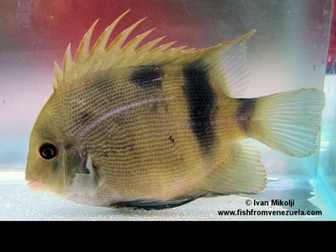 Picture of the Uaru fernandezyepezi has been licensed under a Creative Commons
Attribution
.
Original source
: http://upload.wikimedia.org/wikipedia/hu/5/51/Uaru_fernandezyepezi.jpg Author Ivan Mikolji Permission (
Author
: Ivan Mikolji Permission (Reusing this file) This file is licensed under the
The Uaru fernandezyepezi lives in the benthopelagic, freshwater, pH range: 5.0, dH range: 0 environment.
Uaru fernandezyepezi is a species of fish from the family Cichlidae native to South America. U. fernandezyepezi is sometimes kept as an aquarium fish by cichlid hobbyists. More
), Discus ( Symphysodon ), Uaru fernandezyepezi of Venezuela and the Tocantins and Xingu rivers. HAB: Waroo are found in calm parts of small, blackwater rivers, lakes, and deep pools. More
Uaru amphiacanthoides and Uaru fernandezyepezi are not listed on the IUCN Red List of Threatened Species. More
Uaru fernandezyepezi male in the aquarium of Rainer Stawikowski; Gelsenkirchen .Photo by Rainer Stawikowski. determiner Rainer Stawikowski. Uaru fernandezyepezi Stawikowski, 1989 - Curator: Oliver Lucanus. Last updated on 07-Dec-2004. More
Uaru fernandezyepezi is named after the Venezuelan ichthyologist Agustin Fernandez Yepez. They reach an adult size of about 8 inches, and, like Uaru amphiacanthoides, undergo a dramatic colour change from juvenile to adult. More
Common names
Raitauaru in Finnish (suomen kieli)
Run Runá in Spanish (español)
弗氏三角丽鱼 in Mandarin Chinese
弗氏三角丽鱼 in Unknown
弗氏三角麗魚 in Mandarin Chinese
弗氏三角麗魚 in Unknown

Custom Search