Tropheus polli
Tropheus polli is a species of fish in the Cichlidae family.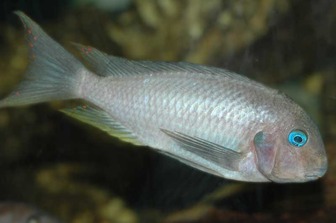 Picture of the Tropheus polli has been licensed under a
GFDL
Original source
: fr: Image:Troph-polli1.4.jpg
Author
: Jtanganyika (?)
Permission
: GNU Free Documentation License
The Tropheus polli lives in the demersal, freshwater, pH range: 8.5 - 9.0, dH range: 10 - 12 environment.
Tropheus polli is a species of fish in the Cichlidae family. It is found in the Democratic Republic of the Congo and Tanzania. Its natural habitat is freshwater lakes. More
* Tropheus polli Axelrod, 1977, with type locality at South of Bulu Island, Kigoma District, Lake Tanganyika, Tanzania. More
Common names
Gabelschwanz-Brabantbuntbarsch in German (Deutsch)
Tropheus polli in Catalan (Català)
Tropheus polli in Lithuanian (lietuvių kalba)
波氏蓝首鱼 in Mandarin Chinese
波氏蓝首鱼 in Unknown
波氏藍首魚 in Mandarin Chinese
波氏藍首魚 in Unknown

Custom Search