Damba Mipentina
The species is at exhibit in the London Zoo.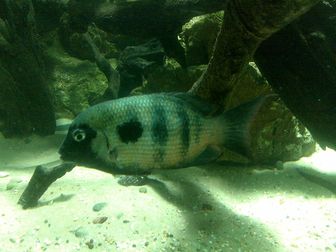 Picture of the Damba Mipentina has been licensed under a
GFDL
Original source
: Own work Author Bjoertvedt Permission (
Author
: Bjoertvedt Permission (
Permission
: GNU Free Documentation License
The Damba Mipentina lives in the demersal, freshwater environment.
The Damba Mipentina is classified as Critically Endangered (CR), facing an extremely high risk of extinction in the wild.

The damba mipentina (Paretroplus maculatus) is a species of fish in the Cichlidae family. It is endemic to Madagascar. Its natural habitat is rivers. It is threatened by habitat loss. Source - * Loiselle, P. More
Information on the damba mipentina is currently being researched and written and will appear here shortly . More
The Damba Mipentina is threatened by fishing, invasive species, and habitat loss. "... cyanide and heavy metal-contamined liquid spilled into the Lupus stream, reaching the Szamos, Tisza, and finally Danube rivers and killing hundreds of tonnes of fish ... More
damba mipentina fish-london zoo aquarium-nov4th07 * emperor angelfish-london zoo aquarium-nov4th07 * long-nose butterfly fish-london zoo aquarium-nov4th07 * More
Common names
Damba Mipentina in English
Masovoatoaka in Malagasy (Malagasy fiteny)
Paretroplus maculatus in Catalan (Català)
Vihersaariahven in Finnish (suomen kieli)
斑副热鲷 in Mandarin Chinese
斑副热鲷 in Unknown
斑副熱鯛 in Mandarin Chinese
斑副熱鯛 in Unknown

Custom Search