Barred cichlid
In 1991 Mesonauta festivus was recategorised.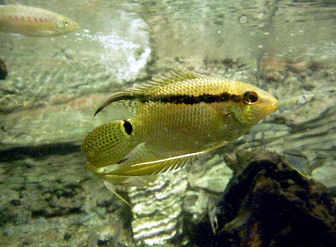 Picture of the Barred cichlid has been licensed under a
GFDL
Original source
: travail personnel (own work) spécimen de l'Aquarium de la Porte Dorée. Author Citron
Author
: Citron
Permission
: GNU Free Documentation License
The Barred cichlid lives in the benthopelagic, non-migratory, freshwater, pH range: 6.0 - 8.0, dH range: 4 - 6 environment.
Barred Cichlid," is not a commonly seen cichlid, but does come every now and then. This species, a member of the Neolamprologus genus, is closely related to its relatives. The genus is split between "shelldwellers" and "rockdwellers"; some like the popular N. More
Also from Guinea, this barred cichlid is sold as Pelvicachromis humilis More
I need some advice! I have had my five barred cichlid for a month and it has always had a really great appetite for the myosis shrimp i feed him. More
The barred cichlid pictured is definately a convict cichlid a female to be exact. This is probably the most common of all cichlids, and the simplest to get to breed. More
Common names
Acará in Portuguese (Português)
Acará Bandeira in Portuguese (Português)
Acará festivo in Portuguese (Português)
barred cichlid in English
Cará in Portuguese (Português)
Festive cichlid in English
festivum in English
Flag cichlid in English
Flagcichlide in Danish (dansk)
Flaggenbuntbarsch in German (Deutsch)
Viivakirjoahven in Finnish (suomen kieli)
花边中丽鱼 in Mandarin Chinese
花邊中麗魚 in Mandarin Chinese

Custom Search