Poor man's tropheus
The poor man's tropheus, Hypsophrys nematopus, formerly Neetroplus nematopus, is a species of fish in the family Cichlidae.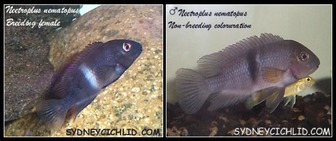 Picture of the Poor man's tropheus has been licensed under a Creative Commons
Attribution-Share Alike
.
Original source
: Transferred from en.wikipedia Author Original uploader was MidgleyDJ at
Author
: Original uploader was MidgleyDJ at en.wikipedia Permission (
The Poor man's tropheus lives in the demersal, freshwater, pH range: 7.0 - 8.0, dH range: 9 - 20 environment.
the poor man's Tropheus for their high resemblance to Lake Tanganyika's Tropheus species. Their natural habitat resembles the goby cichlids of Lake Tanganyika with fast, turbulent waters. This should be duplicated in the aquarium environment as well. More
The common name— Poor Man's Tropheus— is an apt description. In breeding dress, both male and female have a nice white band in the middle of a black or dark grey flank. The effect is reminscent of Tropheus duboisi. More
Poor Man's Tropheus - © Creative Commons Attribution ShareAlike 2. More
Common names
Grå Nicaragua-cichlide in Danish (dansk)
Leväkirjoahven in Finnish (suomen kieli)
Moga in Spanish (español)
Neetroplus nematopus in French (français)
Poor man's tropheus in English
小湖丽鱼 in Mandarin Chinese
小湖麗魚 in Mandarin Chinese

Custom Search