Convict fish
Severums in the aquarium trade may not be actual Heros severus but hybrids with Heros efasciatus.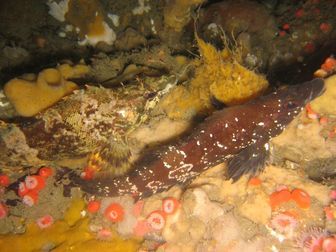 Picture of the Convict fish has been licensed under a
GFDL
Original source
: Originally from en.wikipedia; description page is/was here. Author Original uploader was
Author
: Original uploader was Ferrari2503 at en.wikipedia Permission (
Permission
: GNU Free Documentation License
The Convict fish lives in the benthopelagic, freshwater, brackish, pH range: 5.0 - 6.5, dH range: 0 - 6 environment.
Hello, I am a new convict fish breeder and have had major success. Here are some of the things I have done to successfully breed these beautiful fish. * 1- I began by purchasing a healthy pair of convicts. More
Convict fish are interesting to have because of their active and reproductive natures. Because of their adaptable nature they are relatively easy fish to keep. You'll enjoy watching their aggressive behavior as well as their instinctive parenting skills. More
bandit nicknamed the convict fish because of its alternating black and silvery white stripes. More commonly known as the sheepshead, this inshore species doesn't hold the status of the spotted seatrout (speckled trout) or red drum (redfish). More
Common names
Acará-peba in Portuguese (Português)
Acará-preto in Portuguese (Português)
Acarapeba in Portuguese (Português)
Augenfleckbuntbarsch in German (Deutsch)
banded cichlid in English
Convict fish in English
Deacon in English
Falsk diskus in Danish (dansk)
Heros severus in Spanish (español)
Pielegnica sewerum in Polish (polski)
Raitavanneahven in Finnish (suomen kieli)
Sedate cichlid in English
Severum in English
Striped cichlid in English
Vieja in Spanish (español)
庄严丽体鱼 in Mandarin Chinese
庄嚴麗體魚 in Mandarin Chinese
英丽鱼 in Mandarin Chinese
英麗魚 in Mandarin Chinese

Custom Search