Rio Grande cichlid
The Texas cichild has a large grayish high-backed body with bright blue scales and two dark spots, one at the center of the body and another and the end of its tail.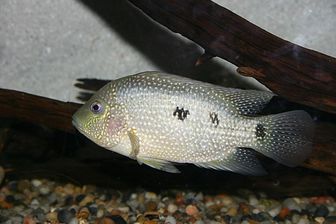 Picture of the Rio Grande cichlid has been licensed under a Creative Commons
Attribution-Share Alike
.
Original source
: flickr Author Charles & Clint
Author
: Charles & Clint Permission (
The Rio Grande cichlid lives in the benthopelagic, freshwater, pH range: 6.5 - 7.5, dH range: 5 - 12 environment.
as Rio Grande cichlid, this species is originated from the lower Rio Grande drainage in Texas and Northeastern Mexico, particular on the sandy bottom of deep rivers. More
As its name implies, the Rio Grande cichlid is a native of the Rio Grande river system in southern Texas and northeastern Mexico, making it the northernmost of all new world cichlids. More
Reproduction and Fecundity: The Rio Grande cichlid is a pair-forming substrate brooder (Itzkowitz and Niby, 1982). Rocks are preferred as a substrate for spawning. When rocks are scarce, this may limit the number of breeding pairs. More
Rio Grande cichlid (Cichlasoma cyanoguttatum) in an aquarium at the Texas Freshwater Fisheries Center, Athens, Texas. Photo by Ray Drenner. More
" Rio Grande cichlid are distinctive in that they exhibit cream and turquoise colored spots, giving them a speckled look. Background color varies from very dark to light olive. Lighter colored specimens usually exhibit five dark vertical bars. More
Like most of its family, the Rio Grande cichlid is generally considered a warm-water fish, and is very sensitive to cold. In general, this fish does not survive at water temperatures below 49 More
Common names
Helmiäiskirjoahven in Finnish (suomen kieli)
mojarra del norte in Spanish (español)
Perlcichlide in German (Deutsch)
Pielegnica perlowa in Polish (polski)
Pielęgnica perłowa in Polish (polski)
Rio Grande cichlid in English
Rio Grande perch in English
Texas in English
Texas cichlid in English
得克萨斯丽鱼 in Mandarin Chinese
得克薩斯麗魚 in Mandarin Chinese
蓝斑丽体鱼 in Mandarin Chinese
藍斑麗體魚 in Mandarin Chinese

Custom Search