Haplochromis nyererei
Pundamilia nyererei is a species of fish in the Cichlidae family.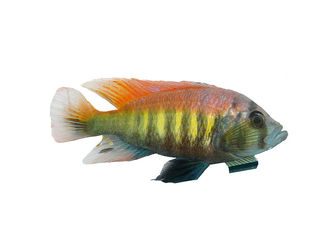 Picture of the Haplochromis nyererei has been licensed under a Creative Commons
Attribution-Share Alike
.
Original source
: Own work Author Oliver Selz
Author
: Oliver Selz
The Haplochromis nyererei lives in the benthopelagic, freshwater, depth range 1 - 4 m environment.
Haplochromis nyererei Luanso IslandOrigin and locale/variety: Lake Victoria, East Africa Size: Adults are usually 2.5 to 3.5 inches in aquarium environment. Sex differences: The young males we are housing have still not developed full adult coloration. More
"flameback" and Haplochromis nyererei are different names for the same fish. Hogwash! As confirmed at our request by Dr. Loiselle, the flameback and the nyererei are not even close to being the same fish. More
Haplochromis nyererei "Zebra" Haplochromis nyererei "Zebra" $4.00 out Haplochromis Red Fin Blue Neon $4.50 Haplochromis Ruby Green $5. More
Common names
Nyereres Viktoriabuntbarsch in German (Deutsch)
Pundamilia nyererei in French (français)
奈里朴丽鱼 in Mandarin Chinese
奈里樸麗魚 in Mandarin Chinese

Custom Search