Benthochromis tricoti
Benthochromis tricoti is a species of fish in the Cichlidae family.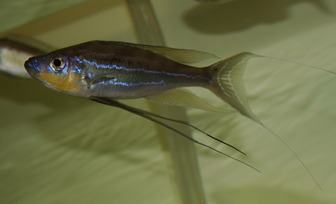 Picture of the Benthochromis tricoti has been licensed under a Creative Commons
Attribution-Share Alike
.
Original source
: Originally from en.wikipedia; description page is/was here.
Author
: Original uploader was MidgleyDJ at en.wikipedia
The Benthochromis tricoti lives in the benthopelagic, freshwater environment.
Benthochromis tricoti is a species of fish in the Cichlidae family. It is found in Burundi, the Democratic Republic of the Congo, Tanzania, and Zambia. Its natural habitat is rocky shores. It is threatened by habitat loss. More
General information - Benthochromis tricoti is an astonishing cichlid endemic to Lake Tanganica. In nature this species lives in large groups in depth of 100-150 meters. In home aquarium it will swim and inhabit the upper water level. More
Benthochromis tricoti at Kambwimba, Lake Tanganyika . Photo by Ad Konings. determiner Ad Konings. Benthochromis tricoti (Poll, 1948) - Curator: Thomas Andersen. - Please login to view this full profile. More
Benthochromis tricotiOrigin and locale/variety: Wide distribution, Lake Tanganyika, East Africa Size: Adults are usually 6.0 to 9.0 inches in aquarium environment. Sex differences: Males show intense coloration and very long filaments. Females are completely drab. More
Common names
Benthochromis tricoti in Polish (polski)
Juovasulkahautoja in Finnish (suomen kieli)
特氏深丽鱼 in Mandarin Chinese
特氏深麗魚 in Mandarin Chinese

Custom Search