Burton's haplo
Astatotilapia burtoni is a species of fish in the Cichlidae family.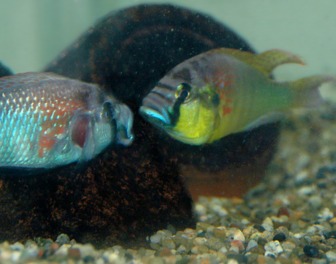 Picture of the Burton's haplo has been licensed under a Creative Commons
Attribution
.
Original source
: Social Opportunity Produces Brain Changes in Fish. PLoS Biology Vol. 3/11/2005, e390 http://dx.doi.org/10.1371/journal.pbio.0030390
Author
: (Image: Russell D. Fernald and Sabrina S. Burmeister)
The Burton's haplo lives in the benthopelagic, non-migratory, freshwater, pH range: 8.5 - 9.0, dH range: 12 - 16 environment.
Astatotilapia burtoni Burton's haploTaxon ID:8153 B - Top Biomphalaria glabrata Bloodfluke planorbTaxon ID:6526 Bombyx mori Domestic silkwormTaxon ID:7091 Bos taurus CowTaxon ID:9913 C - Top Caenorhabditis briggsae NematodeTaxon More
two groups of fish - Burton's haplo, an African cichlid - one in bright light, the other in dim light, and watched the eyes develop differently in the two groups. More
Common names
Astatotilapia burtoni in Catalan (Català)
Burton's haplo in English
burton's mouth-brooder in English
Burtons Maulbrüter in German (Deutsch)
cichlid fish (German: Burtons Maulbrüter, Blauer Maulbrüter, Schwarzkehlmaulbrüter) in English
Gębacz trójbarwny in Polish (polski)
Ifuro in Other
Kitchetche in Swahili (Kiswahili)
Sinisuuhautoja in Finnish (suomen kieli)
Stor mundruger in Danish (dansk)
伯氏朴丽鱼 in Mandarin Chinese
伯氏樸麗魚 in Mandarin Chinese

Custom Search