Alluaud's haplo
Its natural habitats are freshwater lakes, freshwater marshes, and inland deltas.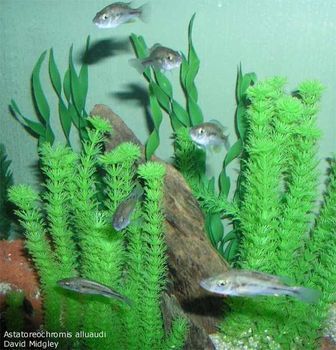 Picture of the Alluaud's haplo has been licensed under a Creative Commons
Attribution-Share Alike
.
Original source
: Originally from en.wikipedia; description page is/was here. Author Original u
Author
: Original uploader was MidgleyDJ at en.wikipedia Permission (
The Alluaud's haplo lives in the benthopelagic, freshwater, pH range: 7.5 - 8.5, dH range: 15, depth range - 20 m environment.
Alluaud's Haplo (Astatoreochromis alluaudi) is a species of fish in the Cichlidae family. It is found in Burundi, Kenya, Tanzania, and Uganda. Its natural habitats are freshwater lakes, freshwater marshes, and inland deltas. More
Boulenger, 1906 Alluaud's Haplo - Astatoreochromis alluaudi Pellegrin, 1904 Almaco Jack - Seriola rivoliana Valenciennes, 1833 Almansor White-lady Swordtail - Graphium almansor Honrath, 1884 Almendrillo - Byrsonima wadsworthii Little almex - Celtis trinervia Lam. More
* Alluaud's Haplo (Astatoreochromis alluaudi) - Text and Image. * Altolamprologus calvus - Text and Image. * Altolamprologus compressiceps - Abbildung. * Altolamprologus compressiceps - Text and Image. More
Alluaud's haplo, Astatoreochromis alluaudi Localité : Astatoreochromis alluaudi est endémique de l'Afrique et des Lacs Victoria, Kyoga, Edward, George, Nabugabo, Kachira et Nakavali. More
alluaud's haplo: also called alluaud's haplo, astatoreochromis alluaudi almond moth: also called almond moth, cadra cautella, ephestia cautella alopex lagopus: also called arctic fox, alopex lagopus alopias vulpinus: also called alopias vulpinus, alopius vulpinus alopius More
Common names
Alluaud's haplo in English
Alluaudi-Buntbarsch in German (Deutsch)
Astatoreochromis alluaudi in French (français)
Hamaga in Luo
Icyasamyi in Other
Ifuro in Other
Ikaje in Other
Nyiramuhundi in Other
奥氏溪丽鲷 in Mandarin Chinese
奧氏溪麗鯛 in Mandarin Chinese

Custom Search