Apistogramma nijsseni
Apistogramma nijsseni is a species of cichlid fish, endemic to the black water habitats in the Carahuayte river drainage, South America.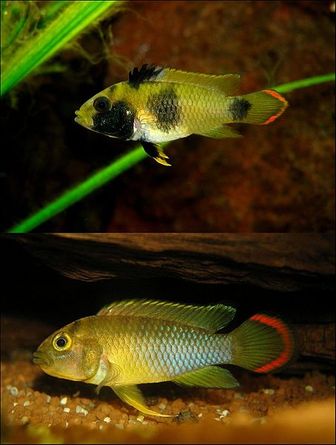 Picture of the Apistogramma nijsseni has been licensed under a Creative Commons
Attribution-Share Alike
.
Original source
: Composite image created with images from File:Apistogramma nijsseni (f).jpg and
Author
: Original uploader was MidgleyDJ at en.wikipedia
The Apistogramma nijsseni lives in the benthopelagic, freshwater, pH range: 5.0 - 5.6, dH range: 5, depth range 0 - m environment.
Apistogramma nijsseni is a species of cichlid fish, endemic to the black water habitats in the Carahuayte river drainage, South America. The species is popular aquarium fish amongst dwarf cichlid hobbyists. Apistogramma nijsseni adult female. More
Apistogramma nijsseni is a moderately deep-bodied species with pronounced sexual dichromatism. Males reach 39.2 mm, and females 30.7 mm SL in the wild. Males may reach 52 mm SL in aquaria, however. Both sexes have short dorsal-fin lappets and clearly rounded caudal fin. More
in love with our Apistogramma nijsseni trio and this species will always be kept in one of our tanks. More
Company: Apistogramma nijsseni (Nijsseni's Dwarf Cichlid ) is best kept with other small species. Water parameters: Temperature 23-26°C / 73-79°F; pH 5.0 – 7. More
Apistogramma Nijsseni aren't uncommon in the trade, but aren't readily seen in local fish shops, either. They are a very nice dwarf cichlid which will colour up a great deal when kept in very soft, acidic water. More
A male of Apistogramma nijsseni, in the aquarium of Max Gallad�, USA. Photo by Max Gallad�. It all began a few months ago (2000) with one of my weekly lunch break trips to our Local fish store: "2001, A Fish Odyssey" in Timonium, MD. More
Common names
Apistogramma nijsseni in Catalan (Català)
Apistogramma nijsseni in Italian (Italiano)
Apistogramma nijsseni in Russian (русский язык)
Panda-dværgcichlide in Danish (dansk)
Panda-dvergciklide in Norwegian (Norsk)
Panda-Zwergbuntbarsch in German (Deutsch)
Pandacichlid in Swedish (Svenska)
Pandakääpiöahven in Finnish (suomen kieli)
尼氏隐带丽鱼 in Mandarin Chinese
尼氏隐带丽鱼 in Unknown
尼氏隱帶麗魚 in Mandarin Chinese
尼氏隱帶麗魚 in Unknown

Custom Search