Compressed cichlid
It is physically similar to its close relative A.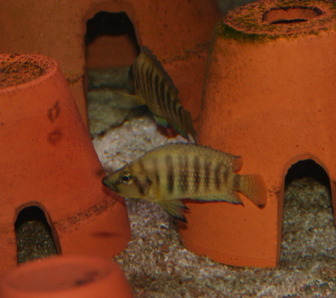 Picture of the Compressed cichlid has been licensed under a Creative Commons
Attribution-Share Alike
.
Original source
: Originally from en.wikipedia; description page is/was here. Author O
Author
: Original uploader was MidgleyDJ at en.wikipedia Permission (
The Compressed cichlid lives in the benthopelagic, freshwater, pH range: 6.5 - 7.5, dH range: 8 - 12 environment.
Almost all Compressed Cichlid specimens are wild caught, and this fish is as fragile as it is handsome. It can be a somewhat picky eater and is susceptible to disease. More
Compressed cichlid ( common name ) let's test your knowledge! Altolamprologus compressiceps ( fish name )slovensky , français Share pictures of your fish! Upload them now! * Maximum size in aquariums (min-max): 14 - 15 cm ( More
I have 2 male Compressed Cichlids which share a 275 litre aquarium with 2 Frontosa Cichlids (1 male, 1 female), 2 Yellow Labidos (1 male, 1 female), 1 male Cobalt Blue Zebra Cichlid and a large Sailfin Plec. More
Do you have Compressed cichlid in your aquarium? Send me please a short paragraph about your experiences with Compressed cichlid. Some photo would be handy too. I will place both here. Learn more about aquarium filters. More
Common names
Altolamprologus compressiceps in Catalan (Català)
Altolamprologus compressiceps in Italian (Italiano)
compressed cichlid in English
Kuonoahven in Finnish (suomen kieli)
Kuonokirjoahven in Finnish (suomen kieli)
Nanderbuntbarsch in German (Deutsch)
侧扁高身亮丽鱼 in Mandarin Chinese
側扁高身亮麗魚 in Mandarin Chinese
熒點亮麗鯛 in Mandarin Chinese
荧点亮丽鲷 in Mandarin Chinese

Custom Search